The Juicing Joy Continues…
Since my last post was so epic and primarily focused upon review of one item, I felt it most appropriate to create a second post to close out "Juicy January" with a few tasty ideas and a second review of another piece of culinary equipment with which I have been working diligently this past month: Kuvings Whole Slow Juicer.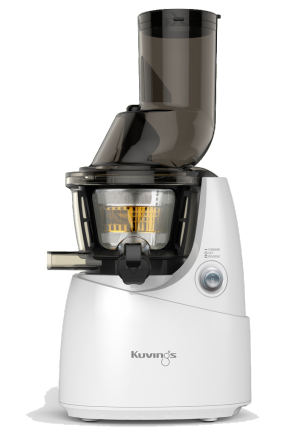 As mentioned in my previous entry, I had been desperately yearning to try out this amazing piece of equipment since having had it brought to my attention quite some time ago via a friend and fellow juicing enthusiast on Twitter. Isn't it amazing how a few images and videos posted to the Internet are able to capture the imagination, and inspire healthy changes in one's life? It's no exaggeration when I say that I had been completely fascinated with this particular juicer for close to two years, and finally getting one has really helped to brighten up a rather dismal segment in my personal timeline. I suppose that my father's influence was an integral part of my decision to finally acquire one of these, as he had actually tried to convince me to allow him to send me a juicer whilst I was nursing a severe injury and thus obliged to indefinitely keep residence in Los Angeles. Since my intention was to leave and get back home to New York ASAP, I declined his offer for fear of accumulating too many large objects to move easily once I would become ready to head back cross-country. In hindsight, I now realise that he was right in his very wise offer and feel somewhat regretful for having been so dismissive of his kind and caring intention to help me find my way back on the road to wellness.
Now that I've begun working through the ongoing process of grieving his death, it seems to me that now may be as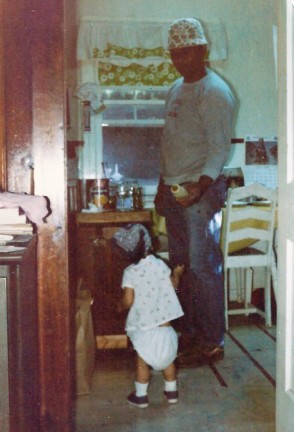 good a time as any to recall this healing intention. I only stop to wonder as to why he never focused this intention upon himself when faced with decline of his own state of wellbeing, as it is so glaringly obvious that he was indeed fully aware of the benefits of fresh juicing. So many years of pre-made, artificially sweetened, commercial garbage "juice" products… I shall always remember the giant pitcher forever present on top refrigerator shelves throughout my childhood years, filled to capacity with "Daddy Juice" – a punchbowl combination of who-knows-what from those little cardboard canisters of frozen "concentrate" stuff and/or large institutuional-size tins (Daddy was a military officer who grew up in Midwestern USA during The Great Depression). There are actually a couple of those frozen things left in my parents' freezer from his last supply, which I could not bear to throw away for sentimental/waste concern reasons… I remember drinking that stuff from an assortment of bottles and sippy cups throughout my childhood, well into my adolescent years without question. I'm fairly certain that there was always some resemblance of pineapple in there, as it seemed that he loved pineapple then as much as I do now.
However, I digress.
Having found little joy in my experience with the KitchenAid masticating juicer & sauce attachment I had initially chosen to use with Daddy's Artisan stand mixer, I opted to look into the possibility of either a Slowstar juicer from Tribest (maker of some of the best raw culinary equipment available) or the aforementioned Whole Slow model from Kuvings. In the end, I opted for the Kuvings based on my fascination with @Sonny_Chia's juicing tweets, pics, and experiences. I was also quite keen on its reputation as "the juicer for people who hate to clean up after juicing," as this describes me to a tee. Also, as appealing as the idea of minimal cleanup may be, factoring in the possibility of minimal prep was essentially what swayed me from investing in another product from a company I already knew and trusted. Although I'm still quite keen to give the Slowstar a whirl at some point, even its relative affordability couldn't sway me from snagging the Kuvings toward the end of the holidays.
Despite some uncertainty with it in the beginning, I have finally eased into joyful use of it on a near-daily basis. I honestly had no idea that these vertical juice extractors are notorious for producing copious amounts of "fine pulp" in juices, so initially thought that there may have been something wrong with my particular unit. After a number of rapid-fire email exchanges via JayKordich.com,  I found Linda and Jay Kordich to be exceptionally helpful in their post-sale guidance. Additionally, Kuvings' customer care department was also incredibly encouraging and even offered me a few tips on some other (lesser known) ways of using this particular juicer. Since having come to terms with the vast abundance of pulp accompanying certain types of juice, I have since adjusted to this reality by straining and repurposing the baby food-esque remains into soups, salad dressings, and occasionally just enjoying them tasty little puréed sauces.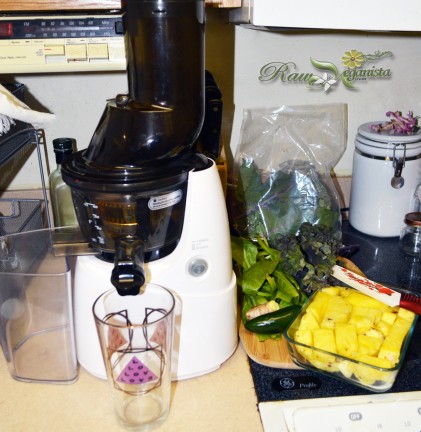 After having conquered this little obstacle, I found myself far more comfortable with combining certain things and planning for possible remnants of various combinations. It seems that juicing softer fruits (pineapple, citrus, etc.) and greens creates far less texture within finished juices, thereby reducing need to strain off any fine pulp. A combination I have quite enjoyed drinking without having to strain at all is a spicy, tropical-esque treat combined as follows:
¼ medium pineapple (hard skin removed)
handful of dandelion greens
few leaves of red kale
1 inch piece of ginger
2 jalapeño peppers
handful of cilantro
I ran a bit of the pineapple through at first, followed by greens, then finished pushing the greens through by alternating with pineapple, ginger, and jalapeños. The end result was a delicious, spicy burst of long-lasting energy.
The Whole Slow juicer works amazingly well with greens, pressing quickly and easily without so much as a pause.
Cleanup is also quite easy, which is a breath of fresh air considering the nightmare I faced when dealing with the KitchenAid juicer (or even the Omega 1000 centrifugal I've been using whilst at home).
Another pineapple-centric formulation I've been enjoying lately is this combination shared with me by a nutritionist friend who recommended it as a potent tonic for healing a vast array of injuries:
½ small pineapple
4 stalks celery
handful cilantro
1 inch piece of ginger
This simple blend is refreshing, and I love that it combines nearly every single one of my most enjoyed bits of organically grown goodness into one deliciously healthy dreat. It's a definite must-try! =)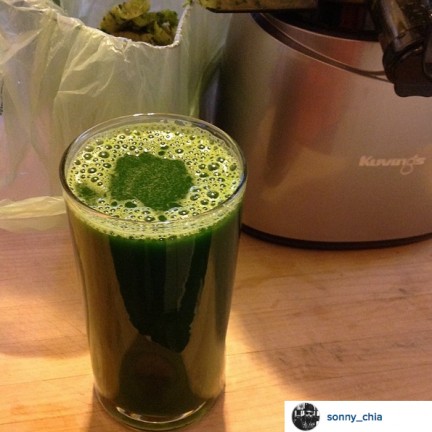 Speaking of "must try" juicing recipes, this one looks/sounds absolutely amazing and I fully intend to give Sonny's deliciously simple formula a try:
I have a feeling that my father would have loved that one, especially since he adored pears. I can still vividly recall watching him through our kitchen window, as he poured endless amounts of time and loving energy whilst nurturing the trees we had growing on our family orchard. Harvest season was always so magical…
Another of my longstanding Autumn harvest favourites is a basic carrot/apple/ginger combination, into which I've recently begun to add golden beets and über delicious fennel:
2-3 carrots (I prefer purple), greens intact
2 apples
1½ inch piece ginger
1 medium sized golden beetroot (greens intact)
fennel (measure according to personal preference)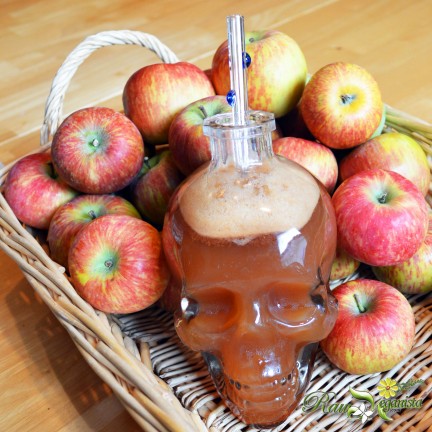 …and for those times when it's best to keep things simple (post-fast, mono-meals, sparse ingredients, etc.), easy-peasy über basics are often a deliciously refreshing way to fit the bill.
However, if pulp is an issue of vexation as far as straining or ingestion is concerned, Linda Kordich suggests using a fast juicer for harder fruits and vegetables (like apples and carrots). The Omega 1000 centrifugal juicer I've been using in Florida has always done a fabulous job with such produce, and fine pulp has never been an issue.
That said, I really wanted to work with a slow juicer for awhile so that I can juice greens and softer fruits without losing nutrients or enzymes along the way. If I had to choose between the two juicers, I would likely stick with the slow and strain as necessary. At first I wasn't entirely certain, but it's all smooth sailing now that I've found a good strainer.
Not to mention the fact that this baby makes KILLER sorbet on its own!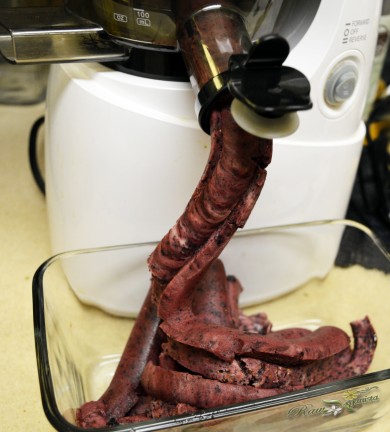 Kuvings offers a "blank" insert for the Whole Slow Juicer, designed specifically for the purpose of cranking out quick and easy frozen treats.
So far I've made amazing, additive-free sorbets using frozen organic blueberries, mango, and pineapple on their own. Soon I'll try introducing herbs and other fresh fruits into the mix, or possibly the (also frozen) juices of such, just to shake things up a bit with a gourmet seasoned edge.
At the moment I have an abundance of citrus and avocados from my friend Rick's farm in Fallbrook, so my Instagram & Tumblr feeds will likely fill up over the next few weeks with frozen concoctions made from that fine fruit.
However, Spring, Summer, and early Autumn are likely the best time for berries, as I prefer to enjoy my produce according to the seasons in which they are most ripe, abundant, and local. Once the inevitable slew of high-water content goodness begins to roll in steadily, it will be time once again to freeze plenty for storage and off-season treats.
Now that I have become reasonably adjusted to the straining situation with harder fruits and veg (apples, carrots, etc.) which have been most available during late Autumn & Winter, coming up with ideas for repurposing seems almost like second nature. Instead of simply using the dry pulp for use in impromptu breads, crisps, cakes/donuts, etc., I now have a little bit of something a bit smoother and more nutrient-rich to use in blended applications such as soups, dips, and salad dressings, and sauces for spiralised dishes.
So I suppose that's quite enough for my follow-up post on juicers, and a reasonably health-inspiring trip down memory lane for me. Daddy would have been 94 this month, had he chosen to stick around for one more solar return, so of course I've been carrying that thought with me endlessly whilst juicing throughout the duration of January.
I hope that some of what I have shared from my experience may prove helpful and inspiring for your own personal journey toward wellness, and also provide a bit of fuel for a healthy and abundant new year ahead. Thank you so very much for your readership and ongoing support of my ever-evolving journalling adventure. =)
As always with gratitude, love, & light eternal,
~ DⒶⓋi, daughter of David
♡Ⓥ★