Upon first having spotted a Tibek juicer for sale, I looked all around the web for posts, reviews, anything from anyone who may have posted something by way of direct experience with this machine. Sadly, there were none.
However, the deal I was offered to buy it seemed too irresistible to pass.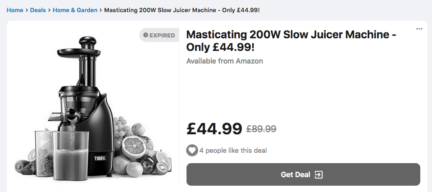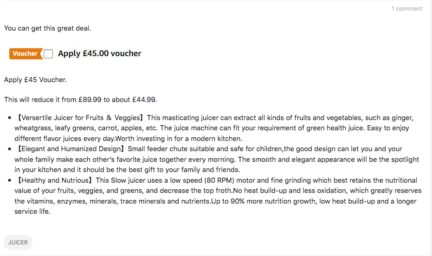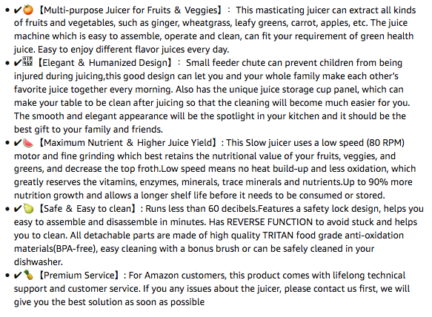 Thus, I decided to gamble on it and give it a go since Sister B & I mainly just needed something reasonably functional in order to press organic fruits and vegetables after having finished our respective fasts. We even looked at local trade sites (such as Gumtree) for used items of similar function and quality, found a couple of centrifugal juicers for around the same price point, but this Tibek thing would be delivered without too long of a wait.
That said, what we received was exactly what we expected, perhaps even more than expected for the price. Since nobody else seems to have wanted to bother with posting a review anywhere (other than Amazon––and many of those reviews were unverified), I thought that doing so here might be a good way to launch back into using the blog––even before redesign/relaunch can happen…
After all, it has been far too long since I've posted anything at all!
Having looked over previous ratings/reviews (via Amazon's listing), I honestly cannot begin to fathom what people seem to expect when purchasing a juicer for less than £100. This seemed quite a reasonable value for what I actually spent, especially as there was a "deal" offered by Amazon which took the price down by half from what was supposedly its original listing price of £89. I also had a promotional discount code for the site, so decided to go for it since juicing is healthful, therapeutic, and an excellent way to process produce which can sometimes arrive in abundance during warmer months. Also: this one came with a blank screen for turning frozen fruit into sorbet! 🍧
Anyway, here are a few "issues" worthy of consideration in relation to what to expect for such a tiny investment in this particular juicer:
1. It is made in China, seemingly not from the sturdiest of materials.
As such, one should be careful in its operation and maintain mindful vigilance when feeding certain things through the chute. Chopping is required, and pushing too many things into the auger may result in breakage, undue stress on the motor, etc.
2. The company appears to have no real website.
Despite having found a small card contained within the box which stated that "logining (sic) www.tibek.cc and register as a member will enjoy and extra 12 months warranty," the link led to nowhere. A registrar lookup yielded results pointing to a GoDaddy registration set to expire in April of 2022, so theoretically the domain does exist (so I may eventually opt to query them via email).
The instruction manual directs users to a Facebook page, which may be fine for anyone who is okay with using that site (I prefer to avoid it). Alhough an assistant once set up a presence there for my business at one point, I have no intention of logging into that website at any time and thus see no possibility of ever being able to contact these people about anything. Therefore, anyone who also prefers to avoid Facebook (or has been banned/censored/etc. for any reason) may also wish to bear this in mind.
3. Product comes with no registration or warranty cards.
The original listing promised "lifelong technical support and customer service" for all Amazon customers.
"If you any issues about the juicer, please contact us first, we will give you the best solution as soon as possible" was the bargain offered to potential customers, which led me in turn to expect something along the lines of a "default warranty" (usually for a year).

Upon our initial opening the of box, we found nothing indicating any type of promise against defects included with its documentation. Nothing has gone wrong with it as of yet, so we have not yet bothered to attempt to make contact with them via the site. However, it may be advisable for other buyers of this product to spring for the optional warranty offered by Amazon at the time of purchase. I did not, and found the price point to be fair enough for me to accept full personal responsibility for any issue I might possibly encounter when using this item.
Bearing all of this in mind, I decided to unpack the juicer and give it a go.
Initial assessment:
– Compared to the Kuvings Whole Slow juicer I left back in the states, it is weak and flimsy.
– Compared to not having a juicer at all, it is awesome. It makes juice, is reasonably easy to clean, and comes with the cool sorbet attachment.
Full assessment, beginning with positive:
1. Relatively quiet.
This is far from being a silent machine, but is not much noisier than others I have used in the past. Most centrifugal juicers are far louder (and also oxidise produce at a far higher rate than ANY slow juicer), so this may come as a pleasant surprise to anyone opting to switch from a centrifugal machine to a "slow" masticating (auger) juicer.
2. Lightweight.
I am assuming that this has much to do with the weakness of the motor, as my Kuvings is incredibly heavy and annoying to haul around when I travel. This one weighs virtually nothing by comparison, and would make a very nice little travel companion for anyone who finds themselves on the road often.
3. Reasonably compact in size.
Again, compared to a centrifugal unit this takes up very little space. It is about the same size as my Kuvings, possibly a bit smaller, and fits nicely on a countertop with limited workspace available.
4. Easy to clean.
I have been amazed by how little scrubbing I have had to do of the inner mesh or spinner whilst cleaning this thing, even when I have juiced celery or fennel (both quite stringy/fibrous––thus rather notorious for clogging up masticating juicers when juiced in abundance. That said, I would also not recommend juicing either of these items in abundance (and have resolved to strongly limit myself from doing so in future).
Which brings me to a few cons:
1. Weak performance.
Juice yield is not high in comparison to other juicers (I have used many), so perhaps not the best value for those wishing to maximise ratio of juice vs. pulp from their produce.
That said, creative people who are into repurposing organic juice pulp can easily find LOADS of uses for that which the juicer discards into the "waste" bin. In fact, I plan to begin posting some juice pulp recipe ideas straight away in this very blog, using this very juicer… 😉
2. Overabundance of fine pulp in juices.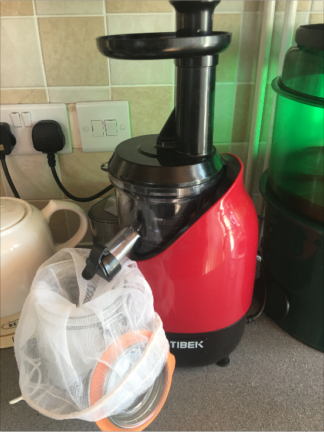 This happens often with masticating (auger) juicers, and has also been an issue encountered with my Kuvings (amongst others). My solution has been to place a straining bag (often used for making plant milks) into the juice container, juice into that and then strain everything through that to remove as much pulp as possible from the mix. This can also be repurposed, or simply discarded into the compost.
3. Flimsy by comparison to juicers bearing higher price points.
Perhaps one might think of it as having purchased something unused/unwanted at a car boot sale, passed along by a former owner who left it to collect loads of dust over time so that the warranty expired (or company went out of business), thus it should to be used with a certain degree of caution.
With all of that having been said, my Kuvings Whole Slow Juicer cost close to £500 new, and I was given a slight discount by the dealer (Jay & Linda Kordich). The Kuvings is a great machine, came with a fantastic warranty, and performs as one would expect for that price. Thus, it should follow that anyone who follows and understands the market and manufacturing process related to these things should expect far less when investing far less money into a similar item.
All in all, after having used it solidly for only a week or so, I presently feel comfortable with offering this unit a 4 star rating in relation to "value for money."
– Would I buy it at the MSRP? Probably not.
One can simply await "deals" to launch for units which actually come from companies with real websites, offer small warranties, and can be contacted via telephone (or at least email).
– Would I buy it again for the same price? Most likely yes.
As previously mentioned, the deal I found seemed unbeatable––even by comparison to offers found on Gumtree for used items of similar quality.
This felt like a good buy, so no regrets as of yet.
Final thoughts:
I once bought a used masticating juicer made by Ronco for a similar price whilst on the road in Florida, and it accessories were minimal (no blank screen for making sorbet). It was also flimsier, and pieces began to break off within weeks. I believe that the construction of the Tibek may be better, but have only been using it for about a week. Also, the blank screen really is quite fabulous and made the whole thing seem totally worthy of the small initial investment. Even if the entire unit ends up breaking in a few weeks time, I find a great sense of gratitude in the fact that we were able to enjoy some nice pineapple/mango/berry sorbet on the hottest day in July. 💜🌱💫