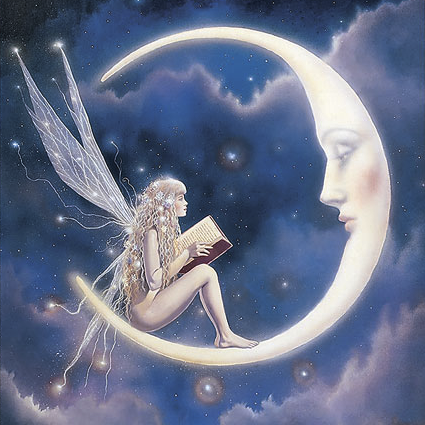 Greetings, and bright blessings to all for a happy, healthy, and peaceful new year. As per usual these days, it has been quite some time since my last post. This one should have gone live on the actual day of the new lunar year––as opposed to St. Valentine's Day. However, technology has not been my friend and I am just now finding the ability/opportunity to move forward with such posting.
As such, perhaps we can consider this a "dual purpose" post to acknowledge both 2023's Year of The Cat and also the infamous V-Day…
So here I shall revisit one of my favourite inventions of all time:
Noodles! 🍜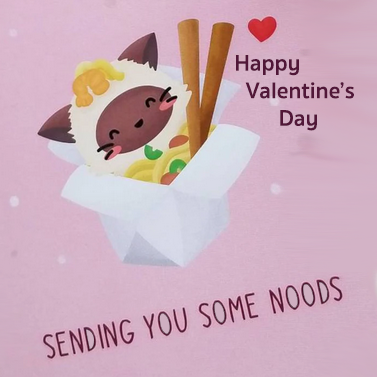 In relation to a new lunar year, noodles are deemed as symbolic of longevity––especially when eaten unbroken. Is there truly something behind that particular legend that makes it seem true for so many?
Could it possibly reference the childlike state that affects so many of us when noodling about with our noodles?
Whatever the case, kelp/algae noodles certainly are fun to eat––and the ability to enjoy & interact playfully with minimally processed superfoods can potentially lead anyone down a path toward eternal youth! 😸
These DIY noodles were my initial attempt at recreating those which I had long been sourcing from a small USA-based business which specialises in kelp noodles. Big "thank you" shout out to my favourite extraterrestrial for having gifted me with a big 1kg bag of prefab Sea Tangle kelp noodles (sourced by Raw Living from the Sea Tangle Company in the USA) as a filling for my happy little Yuletide gonk stocking.
Prefab kelp noodles are somewhat of a rare treat to find in the UK, so having received them felt incredibly special. 💜
Unfortunately they ended up arriving rather late, so we missed out on what should have been a lovely opportunity to enjoy them during our time spent together over the holidays…

However, after nearly 5 years of being back the UK, the aforementioned missed opportunity (along with relative scarcity and expense of sourcing them from the USA) finally inspired me to address them as a potential DIY project so that we may now be able to share them any time! And so I did a bit of research, had a couple of discussions with other creator friends re: their own experiences with molecular gastronomy, and decided to give it a go. Lo and behold, not only did it turn out to be an incredibly joyful endeavour, but also far more simplistic than I had ever imagined!
Taking on new projects such as this during such a strange (& seemingly volatile) time on Earth also calls to mind stories shared by family/friends of family who lived through The Great Depression––thus reminding me that "necessity is the mother of invention!" That said, I'm super grateful to have added something else I truly enjoy into my repertoire. 😊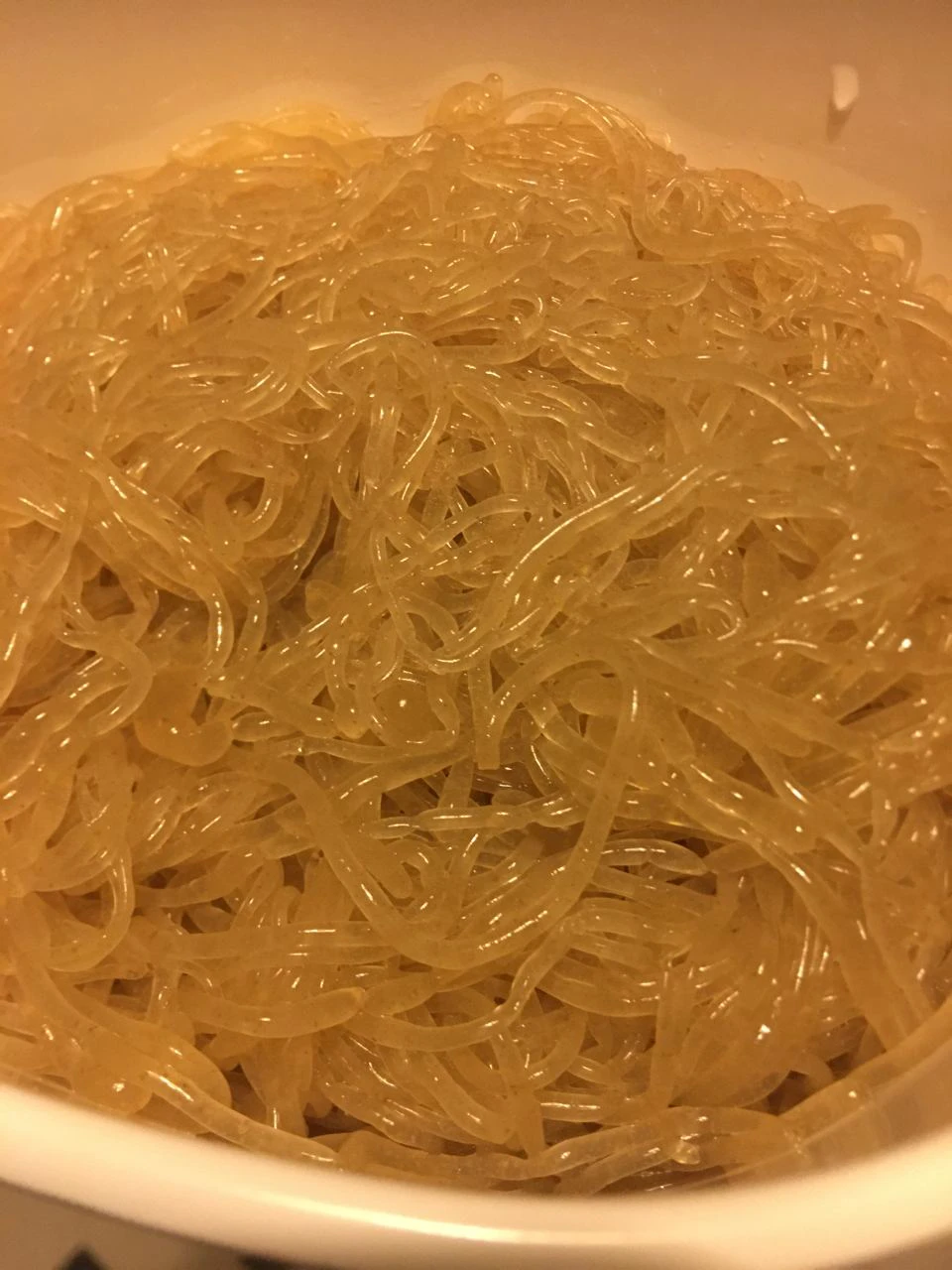 In addition to other flavours, The Sea Tangle Company in the states also makes green tea kelp noodles, so my mind has been full of ideas for making similar noodles with other dried superfood items (and possibly leaving out the kelp for the next round or two of future experiments). Dried sweet potato powder, perhaps? I am even considering adding a bit of curry powder for certain variations, so we shall see how things go…
I have also been informed that there are companies based in Korea that make these without kelp, and simply refer to them as "Sea Tangle noodles." I have never encountered these in the UK, USA, or any other countries to which I have travelled/stayed for long periods of time. My experience with premade noodles from Sea Tangle company is that they require a bit of work in order to soften into a palatable texture for eating. To soften them I would sometimes end up massaging them with a bit of bicarb, pouring water over them just after, and then waiting a couple of minutes before rinsing off. 
This version I have been making turned out quite a bit softer/more pliable than the prefab version from Sea Tangle, and I wonder if this may be due to the fact that I have chosen to use calcium lactate instead of calcium chloride (which may be what is generally used for the commercial product––though I have not verified this with the Sea Tangle company).
In any case, I actually prefer to make them from scratch and am happy to continue doing such going forward. =)
And so, without further ado, here is the basic rundown of what I have been doing:
For the noodles:
3 cups spring water
1/2 Tbsp powdered kelp (if kelp noodles are desired––I have now made these three times)
2 Tbsp Sodium Alginate (the one I used was sourced/produced in the EU & came from Special Ingredients)
1/4 teaspoon Celtic sea salt
Condiment squeeze bottles (preferably silicone, if availalble)
Optional flavour/nutrient variations:
Kelp noodles (add ¼ teaspoon organic kelp powder)
Green tea (or matcha) & kelp noodles (add matcha powder & ¼ teaspoon kelp powder) 
Chlorella powder for deep green superfood noodles
Blue Majik (blue spirulina powder) for blue superfood noodles
Carrot or sweet potato powder (for orange beta carotine noodles)
Beetroot powder for red superfood noodles
The variations may very well be endless… I hope to get creative and discover more in due time!
For the gelling/stop bath:
7 cups spring water
1 Tbsp Calcium Lactate (this is a vegan product––the one I used is EU sourced/produced & came from from Special Ingredients)
Preparation:
Pour 3 cups of spring water into a Vitamix (or other high speed blender).
Add kelp, or other extract, and blend slowly until it mixes thoroughly with water.
Add Celtic salt, increase blender speed just a bit.
Add Sodium Alginate & blend at high speed until fully dissolved and mixture appears like a gel (this should look similar to sea moss gel, for those who are familiar).
Remove mixture from blender, pour into a glass bowl, and place in refrigerator for a few hours (possibly overnight––which is how I've been leaving it to set) until all of the little bubbles have disappeared.
A bit later on, remove gel mixture from the refrigerator, be sure that all bubbles have dissolved, pour gently into squeeze bottles, and follow these instructions:
In a large glass bowl, add 1 tablespoon of calcium lactate to 7 cups of spring water
Stir solution for a minute or so, and wait for it to fully dissolve.
Stir the solution in a wide, rounding motion with one hand, whilst using the other to smoothly/carefully squeeze gel from a condiment bottle into the bowl of water.
Watch as noodles form around in the moving water, and around the spoon.
Allow noodles to gel in calcium solution for at least 15-20 minutes, if planning to use immediately (rinse before use and prepare as desired).
For storage, place noodles into storage container (along with enough of the calcium mixture keep them submerged), cover tightly, and refrigerate.
To prepare after storage, simply rinse, or soak noodles in warm water with a pinch of bicarbonate of soda & some fresh lemon juice before rinsing & preparing.