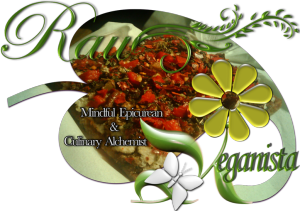 Forwarding Statement:
Culinary blogging activity was initially meant to be more of an archival process, but seems to have evolved into a fairly regular share point for formulas, nutrition/health information, product reviews, and experimentation logs. My original attempt at expressive archival of general thoughts, political commentary, activist interests and the like began quite some time ago via my official weblog on the personal/creative media site I had originally established during my career as a performer/presenter in the corporate (& later independent) entertainment industry. I then began to make regular contributions for Lorax Community's various forums, which which I currently act as "Kitchen Mistress" for the Lorax Community Kitchen (though posts there have been sporadic at best, mainly due to "life" having become a bit too busy/chaotic for myself and my colleagues who had also been involved to keep up with any regularity in relation to blogging).
However, since having incurred a rather serious injury, I began filling up loads of free (recovery) time with research, coursework/general studies, and mission expansion.
Preceding the accident my primary means for transportation consisted of walking, cycling, trains, and buses. Therefore, having been largely incapacitated throughout the healing process led me toward filling up loads of time with reading, writing, and experimenting with healing elements in the kitchen.
My rejection of pharmaceutical and surgical options led me to re-incorporate root vegetables & some other bulbs (in addition to larger quantities of high-energy elements such as nuts) back into my diet as part of the healing process. That having been said, not all dishes presently being featured on this site & related blog are entirely compliant with Ahimsa or Sattvic specifications – therefore rendering non-submissable for use on the Lorax Community Kitchen blog.
Hence, the Raw Veganista food blog was born!
My dietary intake and use of certain produce items will likely change over time, and thus reflect in what is offered online (as well as in classes & other publications). Be that as it may, I choose to approach each situation in the present tense; as a unique opportunity for exploration of other realms of raw/vegan experimentation, whilst logging and sharing some of my results with others.
In closing, I feel that I should offer a wee disclaimer in regard to my methodology:
Many of the "measurements" noted in my formulations are in fact based on loose estimations. As with nearly all of my most successful projects during my experience as a chef and instructor, a great majority of work shared here has been completely eyeballed & based on personal preferences. Therefore, I encourage readers to make similar estimations and adjustments according to their own personal taste and experience. After all, isn't the best part of working with food is having fun and experimenting?
Come along then… Let's play with our food! ♡Ⓥ★