Happy Cinco de Mayo!
Today is a big day of festivities for me, as I shall also be celebrating my 24th year of veganism and dedication to a lifelong journey of commitment toward peaceful co-existence with all fellow Earthlings. As some may recall from last year's 'Celebration of Spring' themed post, the 5th of May is also my birthday–a day which I have always found most helpful to use as a mile marker for new experiences. Despite my reluctance to celebrate my day of birth as some monumental affair, I am quite keen to celebrate veganism, self-sustainability, wildcrafting, and organic cultivation/resourcing as peaceful, responsible, and consciousness-expanding methods for living. As such, I have decided to do so by sharing something very special with dear friends and readers in honour of the occasion. =)
Raw Vegan Carrot Cake Donuts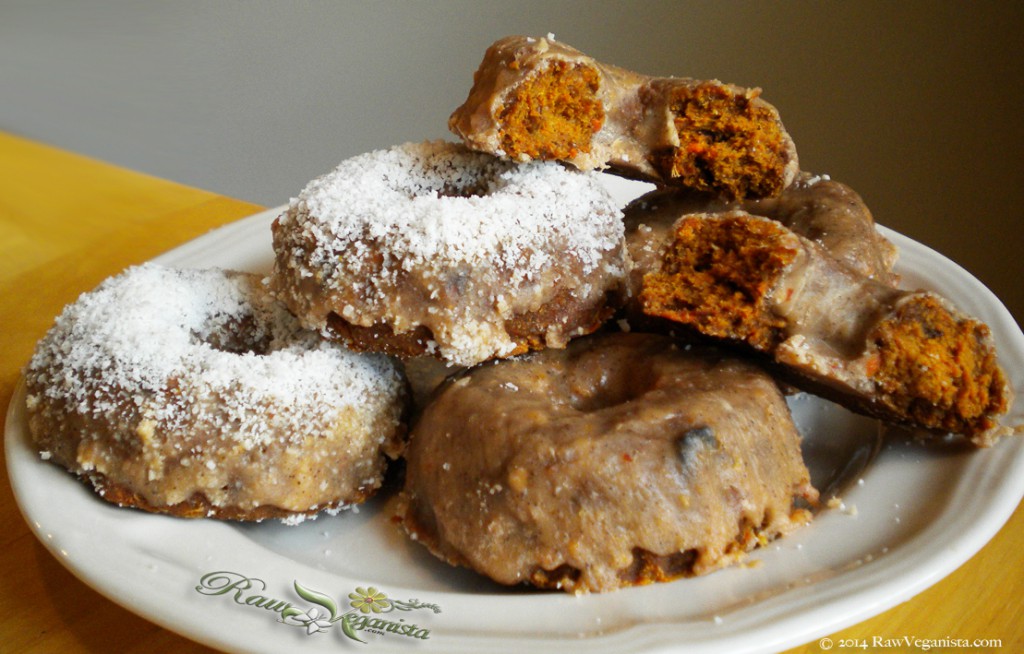 This gluten-free creation is a nut-free variation of one my go-to signature recipes for carrot cakes throughout nearly a decade of catering to the raw & vegan communities via various eateries, shops, and charity/dining events (including many to benefit LORAX Community gardens and other fundraising campaigns) in New York City. The key ingredient in this recipe is organic carrot pulp (the by-product of juicing carrots), which may also be obtained with relative ease by way of one's local juice bars or health food shops with juicing stations. The secondary ingredient is sprouted buckwheat, an amazingly versatile gluten-free wonder food which is neither wheat nor grain. 
This revision turned out so fabulously well that I could hardly believe it, and have been itching to share this new formulation for well over a week. I am super elated over this project because they actually taste even better than they look! In addition to being incredibly delicious, these little treats are also super easy to make and an absolute thrill for me to to offer as my birthday/veganniversary/Cinco de Mayo celebratory gift to all of you! ♡Ⓥ★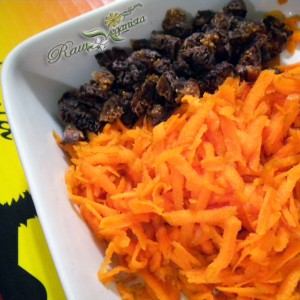 You will need:
2C fresh organic carrot pulp
1/2 Cup medjool dates (chopped)
1/4 Cup Flax meal
1/4 Cup raw organic coconut butter
1 tsp organic vanilla powder
2 Tbsp raw coconut nectar
1/2 C grated organic Carrot
1/4 Cup chopped organic mission figs
1/2 tsp. Celtic sea salt (optional)
1/2 tsp ground organic nutmeg
1/2 tsp ground organic Ceylon Cinnamon
Instructions for preparation:
Process down buckwheat groats in food processor.
Add coconut butter, flax meal, dates, carrot pulp, & coconut nectar.
Process together until mixture is "doughy", fluffy & dense (may take some time).
Add spices (salt, cinnamon, nutmeg, & vanilla powder) & pulse processor to fold into mixture.
Add shredded carrot & chopped figs, pulse until combined (but not chopped up too much), partially stir by hand.
Press cake batter into moulds (I used KitchenAid's silicone mini bundt cake cups) & set up in food dehydrator to dry for 3 hours at 108ºF (if you don't have a dehydrator, you may skip this step & place moulds into refrigerator to set up).
Should you choose to dehydrate, pop cakes out of moulds after 3 hours of dehydration, flip onto slatted dehydrator trays, press to shape, & leave to dry for another 10-12 hours until donuts seem "cakelike".

When process is complete, remove from dehydrator/refrigerator & set into tray for glazing.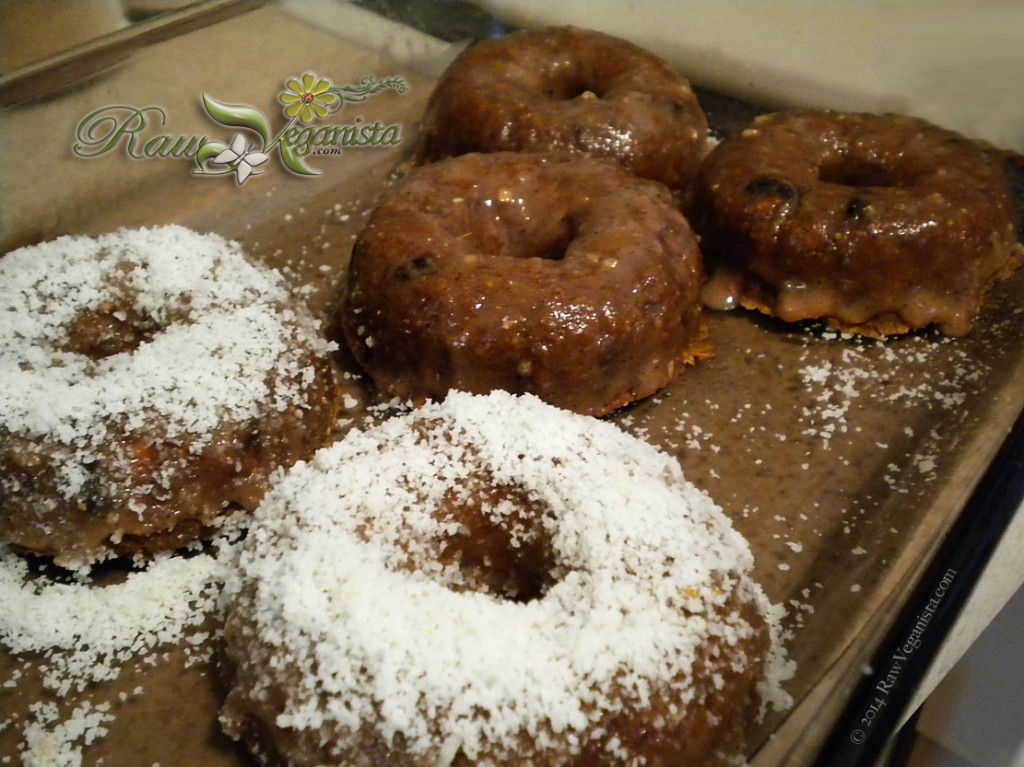 Gingered Blood Orange & Vanilla Glaze
You will need:
zest & 1/4 Cup juice from one blood orange
1/4 Cup raw coconut butter
2 Tablespoons raw coconut nectar
1 tsp freshly grated ginger
1 tsp vanilla powder
Instructions for preparation:
 Combine all ingredients in Vitamix or food processor (I used the former), process until smooth & creamy.
Brush glaze onto each donut with basting tool
Allow to set in refrigerator for at least 1 hour
Re-glaze as desired (finished donuts in my photographs are wearing 2 coats of glaze)
Garnish with powdered coconut and/or lemon zest, if desired.
Enjoy with your favourite spiced tea, and keep any left over stored in the refrigerator for up to a week (though they may keep for longer periods of time… if you can make them last!).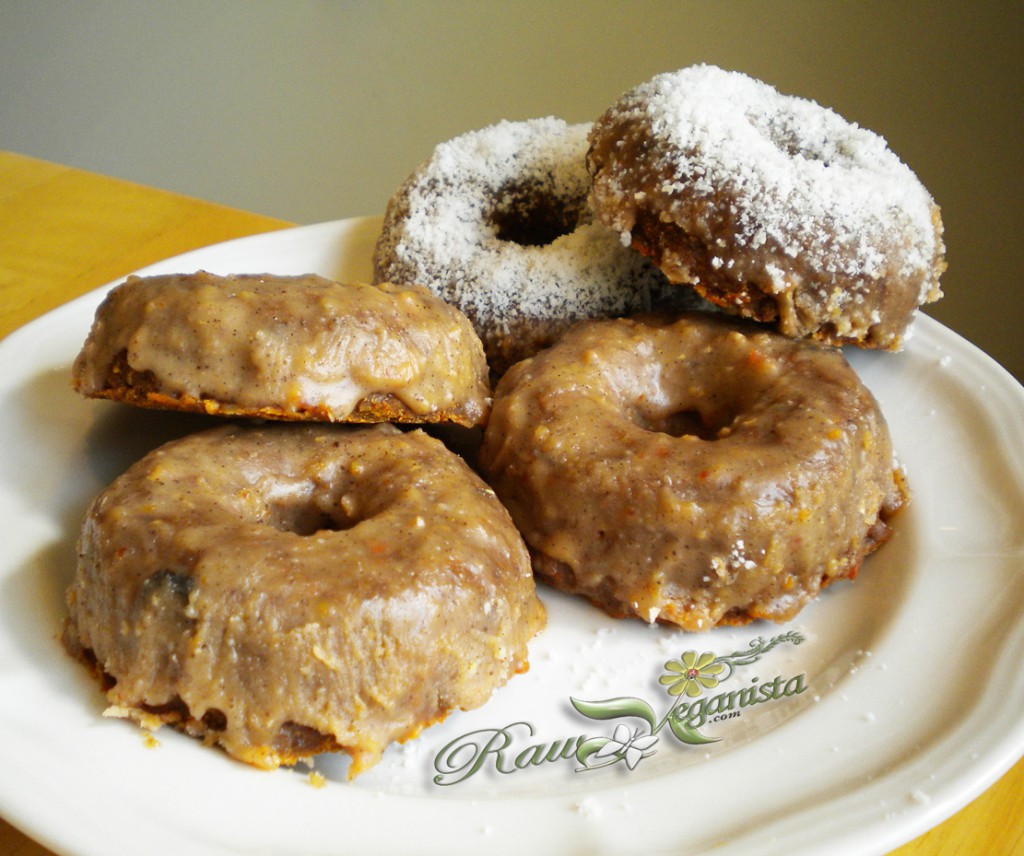 I hope that this special treat may be enjoyed by many, and will prove helpful to those keen to find creative and delicious ways to utlilise pulp from juicing at home. For more occasionally-oriented recipes with a Mexican flair, please click recipe links from last year's Cinco de Mayo entry or see my recent post for nut-free & gluten-free raw vegan hard shell tacos.
As always, I am grateful the kind and enthusiastic support I have been receiving from those who enjoy this blog and related pages. I warmly welcome comments/questions/other enquiries, whilst also asking for a bit of patience and forgiveness of my (sometimes rather lengthy) delays in response time. Although we do our best to ensure that all feedback received is examined, handled with care, and appreciated, I have often found it rather challenging to keep up emails/blog comments/related social sites/etc. due to  limited access to computers/Internet and lack of a mobile phone. Yes, I am indeed one of those strange and magical people who does not have a phone! 😉
Despite these perceived challenges, I truly enjoy my hermitage/sanctuary life whilst truly finding a great deal of joy in receiving positive and uplifting messages from the outside world.
Many thanks, and may peace be with you. ♡Ⓥ★