Please forgive the acute lateness of this post, which was meant to have gone live in time for the start of 2016. Although I have been juicing rather diligently since the beginning of the month, the passing of my absolute favourite artist just following the release of his new album (the imminent availability of which had been my sole source of consolation since the recent passing of my dear father) came as a terrible shock to me and set me into what I can only describe as a grieving tailspin relapse. Although I did post a bit about this via my Instagram (and subsequently Tumblr) account, I felt it best to leave the main blog be until I felt able to finish this post and move forward by writing here here from a more positive perspective. What better way to advance into a new year than with the flow of fresh, homemade, organic juices?
Have you made a list of reset/renewal resolutions? Is juicing placed high on that list?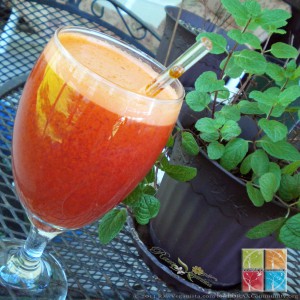 It seems that many of us have been hopping on the "juice train" this January, which is probably something incredibly
NOT new that I'm just now noticing. Before my recent acquisition of (& relative obsession with) my father's stand mixer, and subsequent discovery of KitchenAid's juice and sauce making mixer attachment, I had not really considered the idea of juicing massively at the beginning of Winter. Although I have no real explanation as to why,  for some reason I had never felt inclined to begin juicing Winter produce (aside from citrus) during the colder months.
As many readers have found in most recent past entries, creation of short videos in memory of Daddy and affinity for his favourite culinary machine have become something of an anchor in my ongoing efforts to move peacefully through the grieving process whilst also caring for my mother during my time with her. Thus far this creative process has been reasonably easy and enjoyable, as juicing citrus and "noodling" various fruit/veg are helpful activities to enhance everyday life and nutritional intake. When I first learned of the slow masticating juicer/sauce maker offered as an attachment for the mixer, I felt excited by the prospect of getting one to try and also share feedback with fellow raw/living food and juicing enthusiasts.
A juicing attachment seemed like a truly brilliant idea, since the KitchenAid mixer is essentially meant to be a perpetual element of one's countertop landscape once initially planted in a specific area. As most of us value bench real estate and generally try to limit massive collection of anything immovable from our precious work areas, the thought of simply adding something small and easily stowed away between uses seemed particularly appealing–especially a little gadget which basically snaps onto an already existing contraption meant to permanently reside in one particular spot. Thus, the slow juicing attachment shot directly to the top of my "must have" list–with intention to increase my desire to juice a bit more regularly and possibly create more workspace through replacement of the old (and very reliable) centrifugal Omega which presently resides in my Florida kitchen.
…And so began my enthusiastic journey into slow juicing, which has been progressing in oddly different directions rather than according to original plan or desire.
First stop: KitchenAid Masticating Slow Juicer & Sauce Making Mixer Attachment
That certainly was a mouthful, wasn't it? Sadly, the results of my first experiment with this particular gadget were barely enough to fill my mouth, even after having juiced what felt like a billion carrots and apples. The pulp basket filled up quickly, yet all of the pulp I was finding within seemed heavily saturated with unextracted juices. I suppose that this might have been fine if I had plans for really juicy pulp (my recipe for carrot cake/donuts works quite fabulously with wetter pulp), but working in a kitchen other than mine with minimal space for storage made this feel like an enormously disappointing nuisance.  Cleaning was also a bit of a headache, especially in a kitchen with no sink-based waste disposal system. So much waste, so much mess, big thumbs down on juicing.
Another concern was the fact that this particular attachment felt as if it was straining the mixer as an attachment. It also wobbled quite a bit as it worked, leading me to check and tighten the screw on multiple occasions throughout the entire working process. Annoying, and also a bit worrysome considering how much Daddy's stand mixer means to me. Breaking it is not an option, so I was reluctant to use it even once more. However, I had a conversation with someone at KitchenAid (their customer support is superb), and she advised me that using it more should dramatically improve my experience. Since I still had a slew of cranberies left over from the holidays, I decided to give it one more try and see how an experience with the sauce basket might pan out.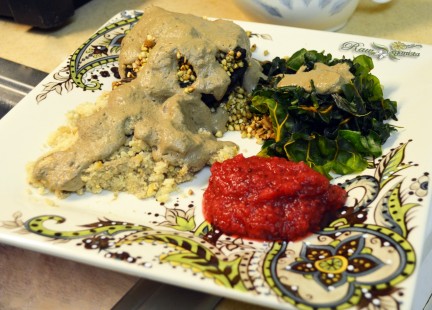 For the sauce I used about ½ pound of organic cranberries and one apple from a farm local to where I was staying (to sweeten). Sadly, I ran into the same situation with the tightening of the screw and big mess afterward. Despite these two drawbacks, the sauce was FABULOUS! In fact, it turned out so nicely that I actually considered hanging onto the attachment to try again at a later date.
However, at $179 it seemed a rather large and extravagant uncertainty to keep around (& drag all the way back to home through several states)–especially when I'd rather have the money to invest in the juicer for which I've been longing since my friend Sonny brought me into a Twitter discussion about it back in 2014. I've also been keen to pick up frozen dessert bowl attachment, as the ice cream bowl was actually what began my love affair with KitchenAid back in 2009 (another Raw Veganista/KitchenAid video may likely be in the works quite soon)…
However, I digress. Despite the fact that I was not enamoured with the overall performance of KitchenAid's slow juicer attachment, I really loved the fact that it was so well designed with neatness in mind. The juice cup and pulp receptacle fit nicely into one another for easy storage, and juicing/strainer baskets were so nicely organised inside a darling little storage case. I'm sorry to say that I wasn't really able to properly document my experience in photographs, but quite honestly all of the prep/cleanup/monitoring activity at the time made it all seem a bit too overwhelming for me to bring the camera into the equation as well. I also didn't feel that it was worth the effort since I had already planned to return the item after the first project, so at this point all I am really able to offer visually is a single photo of packed contents and a link to some sexy photos and video footage from Williams-Sonoma's website.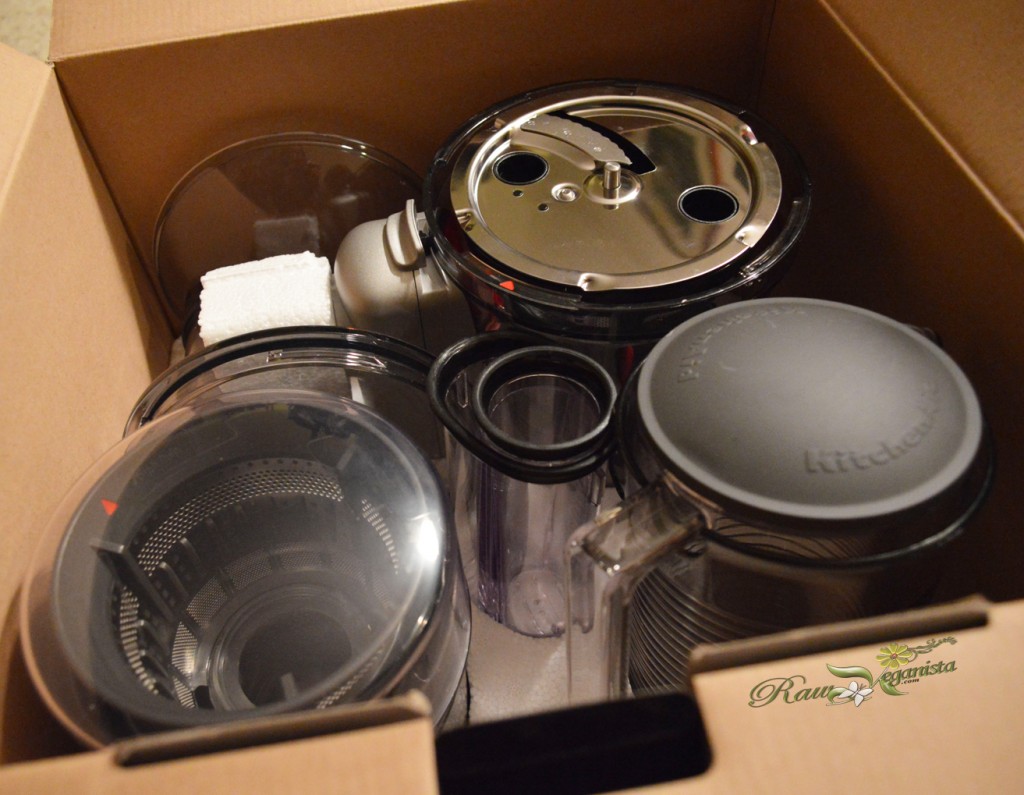 The packaging was quite beautiful, and I was so excited to open and examine everything upon its arrival into my life I really did want to love and cherish this beautiful contraption, but feel that it would have deterred me from juicing as often as I like. So, despite my attachment to the idea of this attachment, back to the shop it went.
I now have a Whole Slow Juicer from Kuvings, sourced from the fabulous Jay and Linda Kordich. To learn more about my experiences with Kuvings, and discover some fabulous juice formulations I've been enjoying since the very beginning of 2016, please be sure to check out my follow-up post!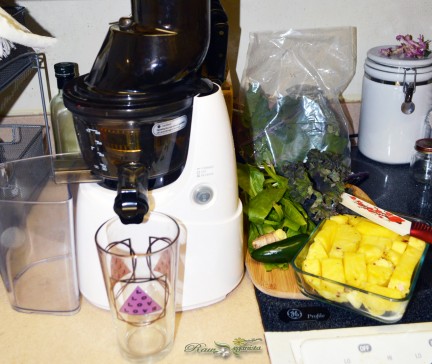 Until next we meet, I wish you a peaceably healthful "2016" (& beyond).
Love & Light Eternal,
~DⒶⓋi, daughter of one left-handed luminary called David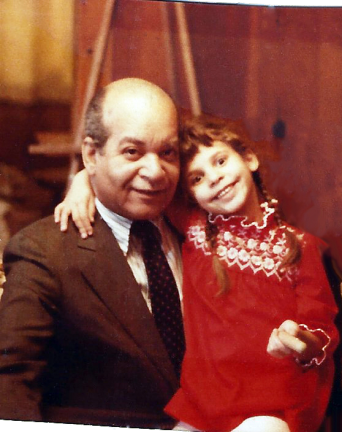 …& lifelong devotee of another.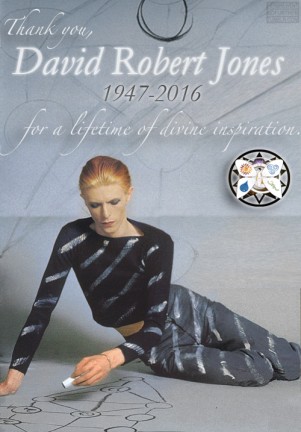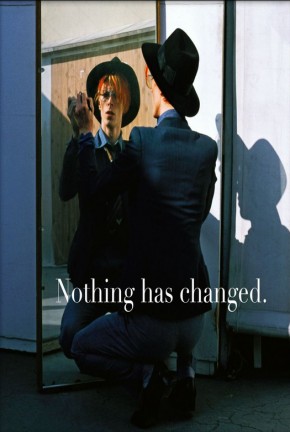 ♡Ⓥ★