Okay, it's been awhile since my last non-recipe blog update & for this I must apologise.
It's been something of a mad rush of guests & activity this Summer, so I lapsed a bit in my posting (as well as coursework, volunteering obligations, family stuff, etc.) and am now realising just how far behind I really have fallen with the blog…
A couple of days ago I briefly glanced at my page on Facebook, only to find a slew of unread messages and friendly wall posts – one of which was about a nomination of this very blog as one of the "Top 25 Vegan Blogs of 2013". For those who enjoy this blog and would like to vote for me, please do so by clicking on the link and following instructions as posted on the site.
Some of my favourite fellow bloggers have also been nominated (including Vegan Miam, One Arab Vegan, and Vegan Yack Attack), so please cast votes for them as well! =)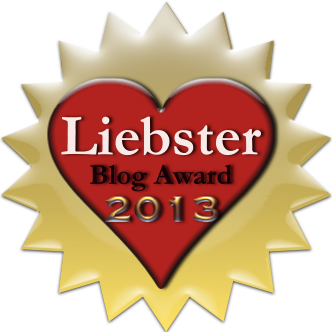 Learning of this nomination also made me remember having been nominated for two Liebster awards by a couple of excellent fellow vegan blogs, which I have yet to publicly acknowledge (& accept). Alas, the stark reality of my tardiness in online upkeep has really begun to set in…
As such, this particular entry is meant to be a quick fix to catch up a bit more with all blog-related matters!
Firstly, I would like to thank the fabulous Vegan Miam & Don't Fear The Vegan blogs for nominating me for two Liebster Awards. I am so grateful for your kind words, thoughts, and consideration! <3
Secondly, I must go over the guidelines related to these awards, so that those who I've chosen to nominate for the same honour of recognition:
Post 11 random facts about yourself.
Answer the 11 questions made by the person who nominated you
Create 11 questions for the bloggers you pass the award to.
Choose 11 bloggers to pass the award to and mention them in your post.
Go to their blogs and let them know that they have been nominated
No tag backs.
11 Facts About Me
I was born & raised on an organic family fruit orchard in a suburb of New York City, where I deeply connected with animals and trees whilst learning how to heal and nourish myself with Ahimsa intentions toward all. It was here that I discovered the intrinsic connection between all living entities, and developed a deep understanding of my role as a steward of Earth. All of these discoveries came with very little support from my family, though my mother was kind enough to allow me to explore these interests from a very early age. As such…
As of this year I have been vegan for 23 years, raw (year-round) for 7 years. =)
Within my lifetime I have lived in various places around the United Kingdom and United States. Despite all of my travels and residential history, New York will always be the home to which I am most attached and devoted.
My second to last change of residence was unplanned, and a result of an accident incurred whilst running errands on a bicycle whilst on a business trip in Los Angeles. Due to a shattered knee, I was indefinitely confined to a wheelchair, advised to avoid returning home to NYC for awhile, and ended up living in a hotel suite near Redondo Beach for a year. More details may be found here, for those who may be interested.
My work history includes: personal training, modelling, choreographed dance performance, ballroom dance instruction, nutrition consultation, companion animal care, wildlife rehabilitation, camp counselling, copy editing, ghost writing, environmental activism, personal chef/catering, and vocal music performance.
I have been on hiatus from modelling and entertainment work since late 2011, and focusing more upon coursework & recipe formulations than music. As such, I consider myself to be "semi-retired" from the entertainment world. As such, my blogging activity at Dark Stardust has lapsed and evolved into mostly social punditry.
I presently work as an instructor and veganic food cooperative coordinator for Lorax Community, whilst also offering services as Ahimsa lifestyle mentor & consultant.
I make all of my own food, and grow as much as I am able in my own garden. Anything I cannot grow, I source directly from small organic/transitional family farms, small artisan businesses, Lorax Community & other local food cooperatives.
I am a homebody and also something of a hermit. After many years of touring and business trips I now immensely dislike travelling, and prefer to host guests than stay with others. In the past when travelling (& not on tour), I would generally aim to stick around a single area for at least 2-3 weeks to experience everyday life & terrain (whilst avoiding having to move around again).
Contrary to popular belief, my everyday dining habits are not nearly as decadent as the majority of recipes posted on this blog. In reality, I eat a great deal of fruits in unaltered form. I also juice quite a bit, and regularly fast on water (one day per week is set aside for water fasting).
The main sources of inspiration & motivation throughout the entire course of my life have been animals, music, art, and the natural chemistry of healing/nourishment.
Vegan Miam's 11 Questions:
What are you having for dinner today or tonight? – Water! Today is Wednesday, my preferred day for water fasting.
What is your favorite Asian dish and what would you like me to veganise? – Goodness, this one is difficult! I was always a fan of Pad Siew (& just about anything else using chow fun noodles), and would LOVE to come up with an excellent RAW version of that… and maybe Lad Nar as well? 😉
What is your worst and favorite travel destination? – This one is also difficult, and depends on time of year. Worst is anywhere cold, and I'm looking forward to a trip to visit a dear friend in Thailand as soon as my knee is fully rehabilitated.
Did you have pets? – I had been living with two amazing rescued felines before going out to L.A. in 2011, who ended up staying elsewhere due to my having been forced to give up my home after my accident (& resulting injury). I miss them loads, think of them every day, and hope to see them again very soon! That having been said, I always considered them to be housemates (never "pets").
Which is your first love: writing books, blogging, photography, or social media? – My first love is music (right next to animals), but for the sake of properly answering the question I shall say photography. Having grown up in front of the camera as a model & subject for artists (including my pro photographer father), I eventually ended up taking a course and learning the fine art involved in getting behind the lens. However, my becoming re-involved in the photographic world is fairly recent, as I am trained in film photography and had given that up for years due to the presence of animal by-products in film & development materials.
Do you have one post that you think is amazing? Please share! – Well, I never really thought of this particular recipe as all being that amazing, but my formula for raw vegan "butter" has certainly been my most popular of late.
Favorite dessert and junk food? – Hmm… Desserts are usually fruit, though lately I have been making a blended healing concoction which consists of coconut milk, Vitamineral Earth, turmeric, cinnamon, nutmeg, & stevia. As far as "junk food" is concerned, I consider anything dehydrated or primarily nut-based to fit in this realm… I guess kelp noodles could also be considered as sort of junk-esque, as they are pre-packaged & bearing a barcode…
Top 3 places you want to travel to purely for culinary reasons? –

1

.

HOME

. NYC is really the only place where I can be bothered to eat food made by anyone else (please check out Rockin' Raw when in Manhattan), and also offers some of the absolute best local farms around.

2

. Cincinnati, Ohio has some INCREDIBLE farms, artisan businesses, and a killer market in Northside (where I've managed to source some amazing treats). It is also the home of Love Force Raw Foods, which is run by amazing & mindful vegans with whom I feel blessed to have connected.

3

. As "misfortunate" and chaotic my existence in Los Angeles may seem to many, I was so incredibly blessed to have connected with some of the best growers and raw artisans during my crazy adventures in Southern California. I also loved SunCafé (which was the first restaurant I visited upon arrival) and Life Food Organic, both of which blew me away with their incredible hospitality and gorgeous raw vegan fare.
What's the one food item you refuse to eat no matter what the circumstance? – Anything derived from any animal. I would rather starve, and have been known to fast on water for weeks when no appropriate food is available.
What's the weirdest food you've experimented with? – Irish moss. It reminds me of an animal when rehydrated, and I find it rather creepy to work with.
What are you wearing today? (HAHA!) – Paisley sundress! =)
Don't Fear The Vegan's 11 Questions:
What are the three ingredients you always have on hand? – Sunflower seeds, cayenne pepper, Celtic sea salt.
What is the best vegan meal you have had at a restaurant? – Basically ANYTHING from Rockin' Raw, especially the cinnamon buns & jalapeño poppers…
What are 3 pointers you would give to new vegans? – 1. Read & research everything. 2. Simple living & DIY make life SO much better! 3. Steer clear of palm oil.
What was the first meal from your pre vegan days that you recreated vegan? – Honestly, it's been over 23 years and I can barely recall such things… Possibly pizza?
Where would you like to go for your dream vacation? – I don't actually do holidays, but am eager to check out the fabulous fruit scene in Thailand.
What has been your biggest challenge as a blogger? – In short? Timeliness (as I'm sure you may have guessed already). Keeping up with posts, questions, etc. in a timely manner whilst juggling physical therapy and other activities. At times it's been difficult for me to maintain focus & inspiration.
What has been the most helpful thing you have learned about blogging on a technical level? – No idea. I'm really still feeling my way around this entire process, to be perfectly honest.
If you had the means to organize a fund-raising event, what would it be and who would the proceeds go to? – I have done this on several occasions! Proceeds in the past have gone toward Lorax Community veganic gardening & food service projects, as well as some of my favourite animal sanctuaries & advocacy organisations.
What has been the highlight of your blogging experience so far? – Connecting with other bloggers has truly been a delight for me on so many levels. I love the positive exchange of ideas and interactions across other platforms & social media sites.
What is your favorite magazine or E-zine? – I don't actually have one.
Are you going to sign up for the Virtual Vegan Potluck? – Sadly, I found out about the last one too late & ended up missing it. Depending upon my location/situation in future months, I may be so inclined to participate! =)
The Raw Veganista's Questions for You!
How long have you been vegan?
What is your favourite fruit?
Do you garden?
Are you musically inclined?
Most adored animal(s)?
5 things you could not live without?
Favourite kitchen appliance?
When preparing food, do you rely upon recipes or operate more on intuition?
Have you ever donated (time, money, services) to charitable projects?
Favourite place on Earth?
Are you allergic to anything?
And my nominees are….. (in alphabetical order)
Dimitri The Raw Vegan Chef
Fellowship of The Vegetable
In The Kitchen With Marilyn (author of Vegan Bite by Bite)
Michael Ray de Los Angeles
One Arab Vegan
Queer Vegan Food
The Raw Food Sisters
This Rawsome Vegan Life
Vegan Food Diary
Wholly Vegan
With Raw Intentions