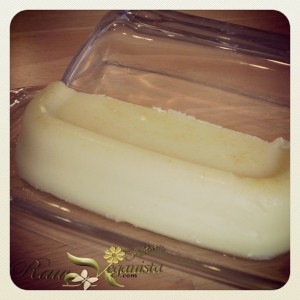 This raw/vegan "butter"/margarine recipe is not only quick and easy, but also free of palm & hydrogenated oils. The base is comprised of one of the healthiest (and most delicious) fats available: a very mildly flavoured, raw, unrefined coconut oil.
Despite having been unable to eat any of my own experiments over the past few weeks (I have been fasting & juicing only), my "taster" assured me that this particular batch was divine and tasted "very much like salted butter." This experiment was developed quite some time ago (when cooked food was still an option in my diet – it's incredible on cinnamon toast & in brown rice), posted on the blog by special request, and is being offered as my gift to you in honour of Earth Day 2013.
• 1 Cup raw, unrefined, virgin organic coconut oil. I used Living Tree Community's brand, which is quite delicious with a very light (nearly nonexistent) coconut aroma/flavour.
• 2 Tbsp organic & RAW extra virgin olive oil (first cold pressed). I prefer the unrefined variety, USA sourced. As most readers are aware, I choose to support non-commercial U.S. farmers as much as I possibly can since having returned to live in the States. After extensive research and sampling, I have found that the olives & oils from the farm linked above are absolutely unbeatable (please be sure to let them know I sent you)! =)

• 1/2 tsp Celtic sea salt (or more, to taste)*  
• 1/8 tsp (or less) turmeric (creates a yellowish "butter" colour – turmeric also provides anti-inflammatory properties)
 *please note: I suggest grinding even the "fine" consistency salt even further down with a mortar & pestle so that salt is a lighter, powdery consistency. Salt should be as powdery as possible for this recipe, to reduce sinking/settling during congealing process. Granular salt has a tendency to collect in one place, which will create an uneven flavour and texture in delicate, liquid-based recipes such as these.
– Liquid measuring cup
– Measuring spoons
– Shaping mould or container
– Vitamix, or similar high-speed blender (a regular blender could also work, though the high-speed mechanism of the Vitamix seems best for whipping & incorporating ingredients)
Important note: Coconut oil should be in liquid form. If it is a white solid, place a well-sealed container of it into a bowl of very warm water until liquification occurs.
Blend all ingredients together in Vitamix at high speed, but be sure to keep from allowing the mixture to heat up (touching the sides of the carafe should help with monitoring any heat being generated during blend time). 
Place receptacle container into a bowl of ice water, then pour "butter" mixture in as soon as blending has finished (pouring it into a cold container will cause it to congeal quickly, which will keep the oil from separating from the salt and turmeric. Separation will kill this recipe, so please do be careful).
Yields two "regular" sized sticks of butter (or kept singularly in a covered tub – I would use glass or stoneware), which can be stored for several weeks or longer in a refrigerator.