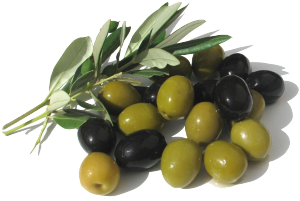 Once again I have fallen in love with olives. Since having recently run across information via some fellow members of the spiritual community on how to prepare them without heat processing or toxic chemicals, I have been 
so keen
 to get some of these little gems – freshly grown from a veganic, organic, or transitional farm. Unfortanately, I have yet to locate any growers local to the area in which I recently set up shop (
can they actually even grow in subtropical regions?
) and they are not yet in season for me to buy from anyone in California.
Alas, I shall have to wait for Winter to arrive (no hurry please, really!) in order to farm source anything raw/uncured…
As many may have suspected, this entire whole process of researching farm sources, growing, and various methods for truly raw preparation actually created an enormous craving within me for olives. I had not had any raw olives since having left Southern California, and all of this research was making me mouthwateringly nostalgic…
Since I am absolutely
not

okay
with imports of items which can easily be obtained from farmers who grow within USA borders, I resolved to do a bit of additional research to see if I might be able to find reputable (& relatively inexpensive) sources for truly raw olives to satisfy my desire. Again, I'm picky about buying since my preferences are so particular. I prefer to buy  things directly from farms whenever possible, as that process makes it easier to learn about harvest, production, and other methods used in the process of growing/harvesting/preparing various goods. When sourcing items farm-direct proves too difficult (
read: impossible
), I then prefer to work directly with small businesses who deal mainly in production and distribution of artisanal goods. When all else fails, I go for my whitelist of raw/organic retailers to help fill my pantry with items necessary to suit my needs (
yes, there is also a blacklist
).
Fortuitously, my second choice of farm-direct prepared artisan goods became a reality almost immediately upon my asking! The Universe provided me with the ideal resource to suit my every need and desire, in ideal manifestation. Gratitude and abundance abound, the answer to all of my prayers came to me in the form of Good Faith Organic Farm – a fabulous source for RAW organic & transitional olives at incredibly affordable prices from a small operation in Fluornoy, California!
Where is Fluornoy, California? In the interest of saving myself a few moments & keystrokes , I shall simply let
Wikipedia go into those details
on my behalf…
What I'm really excited to talk about are the olives! =)
Several points to consider re: Good Faith Farm:
Regarding olives –
From Northern California Old Groves
Grown, harvested and distributed by small family farmers
No synthetic fertilizers, pesticides or herbicides- of any kind
No Lye, chemical ripening agents, colorings or preservatives
Sea salt cured – 6 to 18 months
No heat used at any time in the curing or packing processes
Jars are not pastuerised; filled to the brim with a topping of oil to keep the air out
Naturally ocurring enzymes and amino acids
Regarding oils – 
Cold pressed immediatly after harvest from premium olives
Immediately stored in stainless steel air-tight tanks in cold storage to keep them fresh.
A blend of select varieties for better nutrition and flavour: fresh and sunny faintly bitter with a fruity center and peppery finish
Lightly filtered
Unless olives say they are raw, then they probably are not. Modern olives are heat-canned or chemically cooked with lye (aka caustic soda or draino), to breakdown the plant cellulose rapidly and to kill any pathogens, killing the healthful bacteria and enzymes at the same time. Even most salt-brined olives are treated with lye; and since lye is sodium hydroxide, olive producers do not have to iist lye on the label. Moreover, the most prevalent salt in the California olive industry is solar salt (or water softerner salt), reclaimed from manufacturing salts and solar evaporated – not sea salt at all. 
Good Faith Farm uses only Northern California sea salt and Real Salt from ancient sea beds in Utah. Their olives are truly raw, slow-cured using old world methods and rich in digestive enzymes and fresh oils. No lye!
I shall now compare some differences between two sources for one my personal favourites: Kalamata
Value: 
Sunfood – I recently had what were supposedly "raw" California kalamatas from Sunfood, which cost me $15 for a pint.
Good Faith Farm – The ones received from Good Faith Farm were less than $10 for a pint (mine came in a pack of 4, but their olives are also available in 1/2 gallon sizes at a similar price).
Texture & Flavour:
Sunfood – The batch I got from Sunfood were incredibly squishy, overly brined, & generally unpleasant.
Good Faith Farm – The kalamatas from Good Faith Farm are absolutely perfect: nice and firm, yet neither hard nor bitter. Seriously, these things are no joke!
Overall Evaluation:
Sunfood – I'm not really into soggy, overly-salted food, so these definitely get Sunfood an exceptionally low mark from me. I would only pick these over others marked "raw" because they claim to be organic and from California (as opposed to Peru). That having been said, I honestly have trouble believing that these are actually an unheated, nutritionally viable food.
Good Faith Farm – The last time I can remember having had olives this good was when I sampled some which had been home cured by some family friends many years ago. These olives were plump, well-balanced in flavour, and a pleasure for us to savour with and without food. It is obvious that they put great care into the harvesting and preparation of their olives, as each one seemed perfect in its own special way.
Good Faith Farm prepares their olives using traditional methods, without cooking or adding toxic chemicals such as lye. They seal their jars off with olive oil, which helps to keep the cured olives fresh and firm for longer than those one would normally buy in a shop.
Not of the 4 varieties shared at our tasting seemed at all squishy, briny, or overly processed. In addition to all of this, the people running the show are also incredibly friendly, helpful, and kind.
Aside from the (amazing) aforementioned kalamatas they also offer Lucques, along with a few different varieties/preparations of Sevillano and several types of oil (details to follow).
Of those shared amongst us at our tasting events, our outstanding favourites were as follows
Kalamata
Tree Ripened (plain) Sevillano
Luques (Rosemary & Lemon)
Moroccan Spice
Garlic & Oregano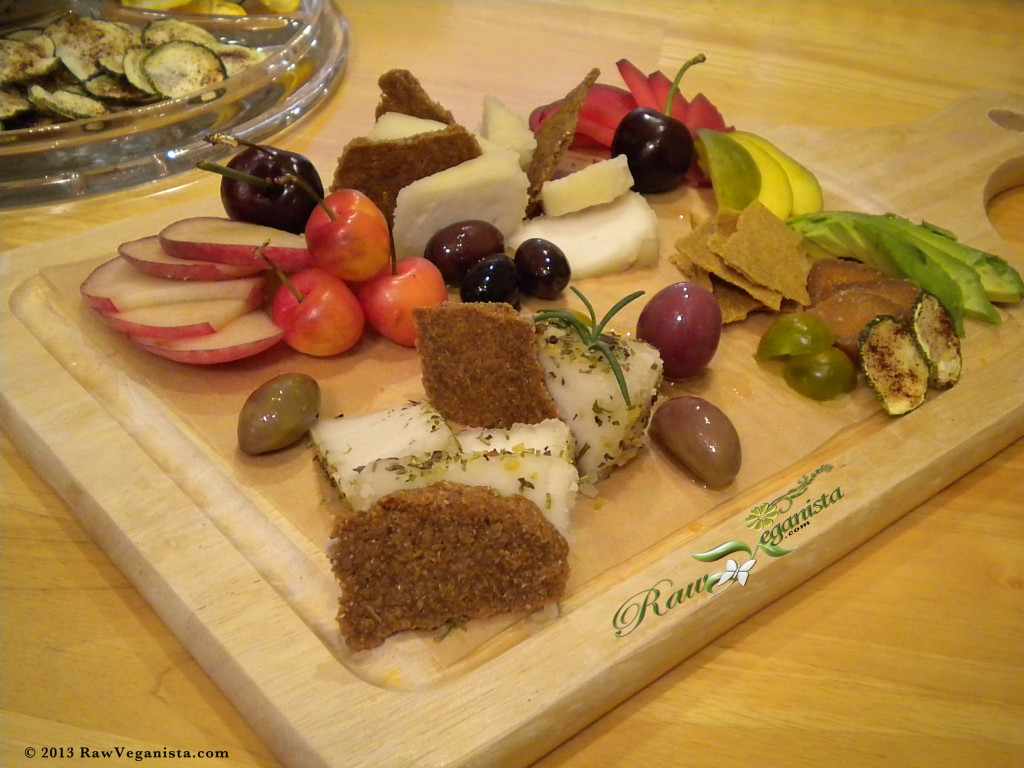 As far as I can tell, these olives shall likely become a favourite with members
Lorax Community
's food cooperative projects – and also in my own kitchen.
I highly suggest checking out their stuff, whether you may be local to them or afar (have I mentioned that they ship?).
Where to find? 
Good Faith Organic Farm sells often at various Northern California farm markets, and can alternately ship directly to CA residents at a reasonably low rate.
Shipping elsewhere is slightly more costly, though nothing I would consider to be a deal breaker. For olives this good, it still seems quite fair for me to pay a bit more to ship out of state…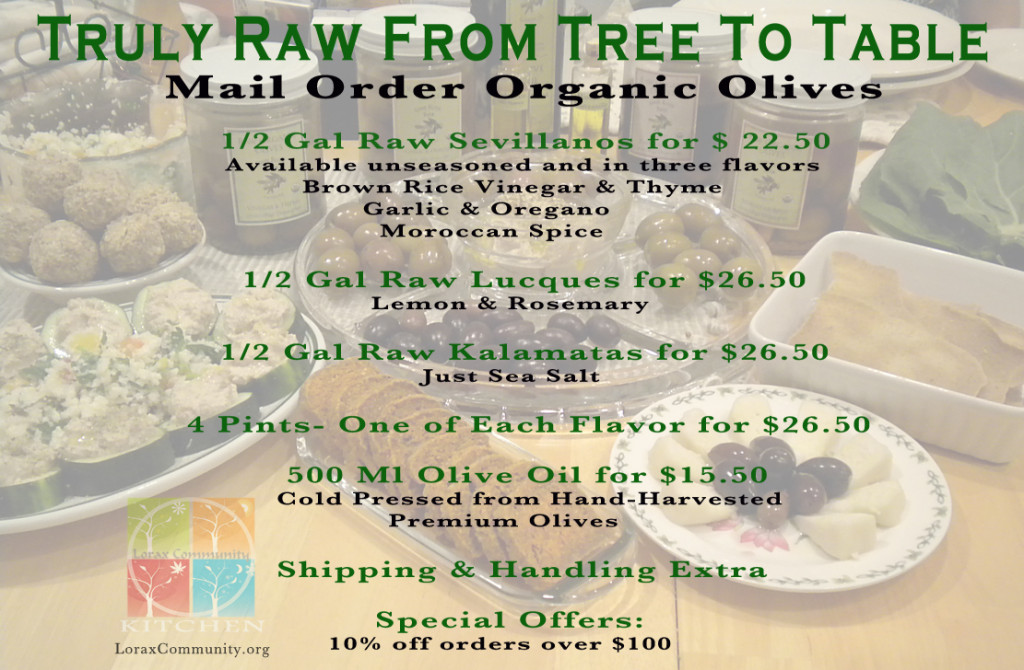 Contact information: 
For enquiries regarding local pickup & food cooperative buying on the East Coast of the USA, please contact
Lorax Community
co-op leaders at any of their designated locations.
To order farm direct, please use the following contact info:
Good Faith Farm
15415 Paskenta Road
Flournoy, CA 96029
Retail/Mail Order: (530) 833 – 9904
Wholesale: (530) 481 – 0204
For those interested in how to best use the Moroccan Spice variety, my
last blog post features a couple of recipes
which pair amazingly with those. More recipes will surely follow for pairing with other varieties, so please subscribe (using the module in your right-hand sidebar) for first news on those updates.
Bon appétit, & enjoy in vibrant health!