Happy Solstice Sunday Supermoon!
As promised, today I announce the winner of my Glass Dharma drinking straw giveaway! Before I announce the winner, I would like to thank you all for all of your wonderful comments and shares. Each and every one of you made me smile and laugh so brightly – I'm so blessed to have readers like you! =)
I would also like to thank my dear friend Ben for writing a contest management program to help me with this endeavour. Instead of actually entering the contest himself after having read the blog entry, he selflessly decided to create something special to randomly choose winners. Much gratitude to the amazing Ben for all of his kindness & generosity.



Thanks to Ben's innovative little random generator program, we now know that the winner of the contest is Jen! Glass Dharma will contact her directly in the following week (likely tomorrow) via email to arrange for choice & delivery of her lovely new glass drinking straws. Congratulations, Jen! =)
For everyone who didn't win that particular giveaway, I'm happy to say that due to the success & delight experienced as a result of this first one, there will absolutely be another coming up on the horizon. I also offer two of my favourite Middle Eastern recipes as a sort of "consolation prize", and hope that you may enjoy. They both pair nicely with the truly raw, chemical-free & organic olives from California, about which I have been raving endlessly to everyone. These olives are nothing short of incredible! =)
 Spicy Almond Hoummous
Ingredients:
1C raw (unpasteurised) California almonds – soaked 

1C raw, unhulled sesame seeds – soaked

1 red or green chili (jalapeño) pepper

1 Medjool date – pitted

3-5 garlic scapes (or 2 cloves)

1/4 tsp ground cumin
1/2 tsp ground coriander seed

1/2 Meyer lemon (peeled)

Celtic sea salt (to taste)

2 Tbsp extra virgin (raw, first cold pressed) olive oil

1/2 C Pure water (+ more to add for consistency whilst blending)
Necessary Equipment:
Vitamix (or similar high-speed blender)
Measuring spoons
Measuring cup
Tamper
Preparation Instructions:
Place almonds, sesame seeds, date, jalapeño, garlic scapes, olive oil, and water into blender.

Blend on high speed, adding water as needed (monitoring consistency).
Add lemon whilst blending (& monitoring consistency)
Tamp ingredients as necessary to keep things moving.
Serve as desired*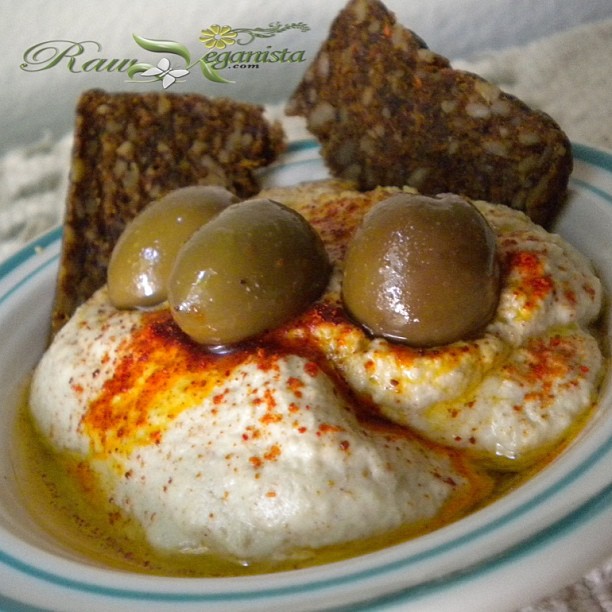 Baba Ghanouj
I absolutely love going through boxes of farm-direct produce we get for Lorax Community's veganic food cooperative. In addition to a slew of familiar favourites found in a box from several weeks ago, I found a pretty variety of aubergine which was completely new to me…
What a lovely, colourful gem! My first thought upon finding it: Baba Ghanouj! Since I had no experience in working with this variety, I opted to acquaint myself with each aspect of it before incorporating it into any mixture. Basically, the first thing I did was to peel of a bit of the skin to sample the taste and texture. Nice! It was soft, easily chewable, and not even remotely bitter. As such, I opted to leave skin intact when slicing up the fruit before blending.
I used:
1 Graffiti medium sized aubergine (skin intact) – chopped
1/4 Cup raw, unhulled sesame seeds (soaked for a minimum of 2 hours)
4 Tbsp (organic, raw, cold pressed) extra virgin olive oil
Juice from one lemon
1-2 cloves fresh garlic
Fresh Italian (flat leaf) parsley
Preparation: 
Place aubergine, sesame seeds, olive oil, lemon juice, & garlic into Vitamix (or similar high-sped blender)
Blend until all ingredients are incorporated & reach a creamy consistency (tamp as necessary – add water sparingly toward end of process, if needed)
Move to another receptacle (serving bowl?) & add chopped parsley, reserving some leaves for garnish
Serve as desired*, garnished with fresh parsley & raw organic olives.
Enjoy in good health!
*To make little cups from cucumber, simply scoop into slices so as to remove the top portion of seeds (taking special care to avoid scraping away those at the bottom).