Happy Lunar New Year!
This time of year marks that particular moment when many of us (myself included) choose to observe onset of a new full calendar reset – and in this case the Year of The Monkey. In honour of kindred primates worldwide, this seems more than an appropriate time to celebrate with the best possible food to fuel primates of all species (including humans):
FRUIT!

As it seems that ritual accompanies the onset of each new year, symbolism always plays an integral role in the way many of us are often inclined to begin. Some relevant food traditions for Lunar New Year include the following:
Cabbage – Prosperity, gold, wealth
Carrots – Good luck
Lettuce – Prosperity
Noodles (uncut) – Long life
Shiitake Mushrooms – Longevity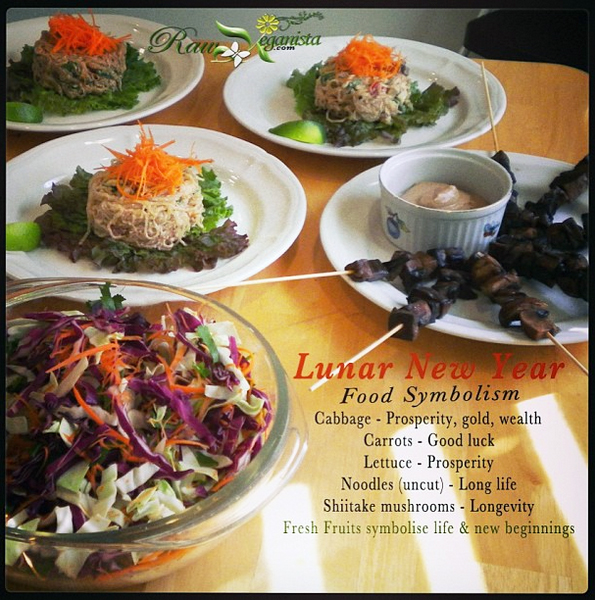 …and did you know that fresh fruits symbolise life and new beginnings?
Noodling about with fruit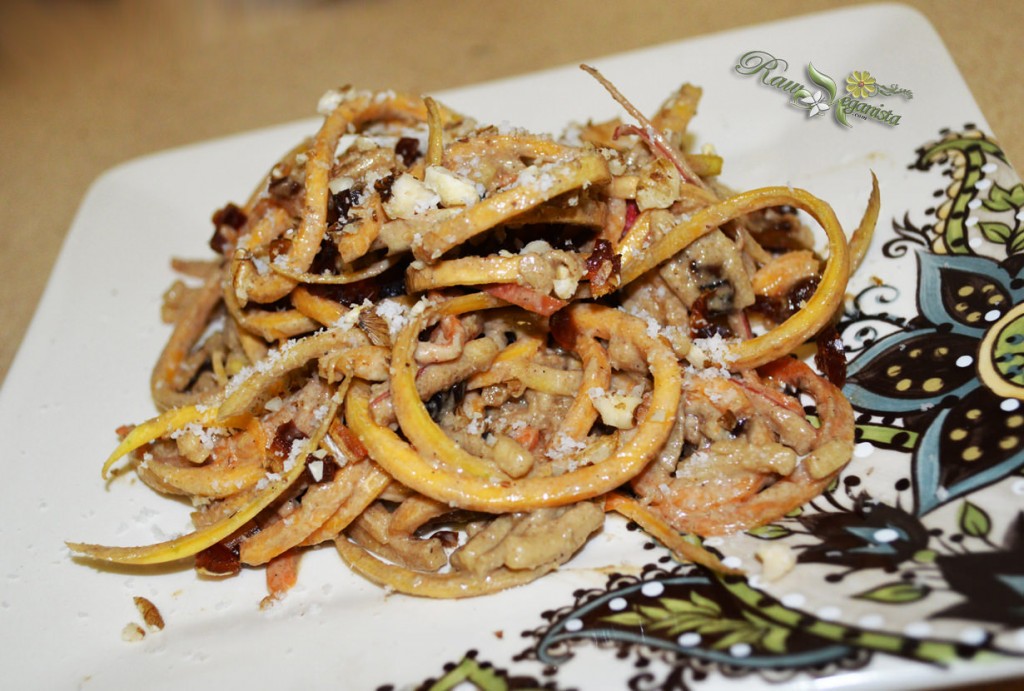 Since having acquired the amazingly efficient and time-saving peeling, coring, and spiral slicing attachment for the KitchenAid stand mixer (please see related post for details & demo video), I have been keen to try "noodling about" with far more fruit than ever before. As apples and squash became rather overabundant during Autumn harvest, my mind began to shift into thoughts of all things sweet, warming, nutrient dense, and as always–raw. Although I chose to serve this particular dish as a dessert, it also works well for breakfast. For someone such as myself who cannot seem to get enough of noodles, fruit "pasta" for breakfast seems a delightfully fun and happy way to start the day with a sweetly  positive spin! =)
Heirloom Apple & Butternut Squash Noodles with Sunflower Seed Butter Sauce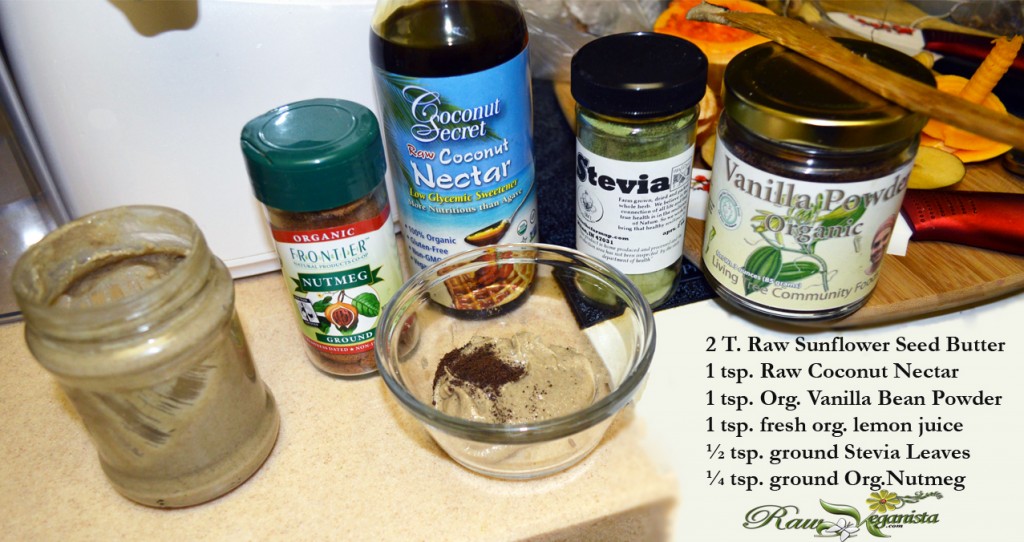 For the sauce, you will need the following:
 2 T. Raw Sunflower Seed Butter (I grind my own using sprouted/dehydrated organic USA grown sunflower seeds)
1 tsp. Raw Coconut Nectar
1 tsp. Org. Vanilla Bean Powder
1 tsp. fresh org. lemon juice
½ tsp. ground Stevia Leaves
¼ tsp. ground Org. Nutmeg
Spring water (to consistency)
pinch Celtic Sea Salt (optional)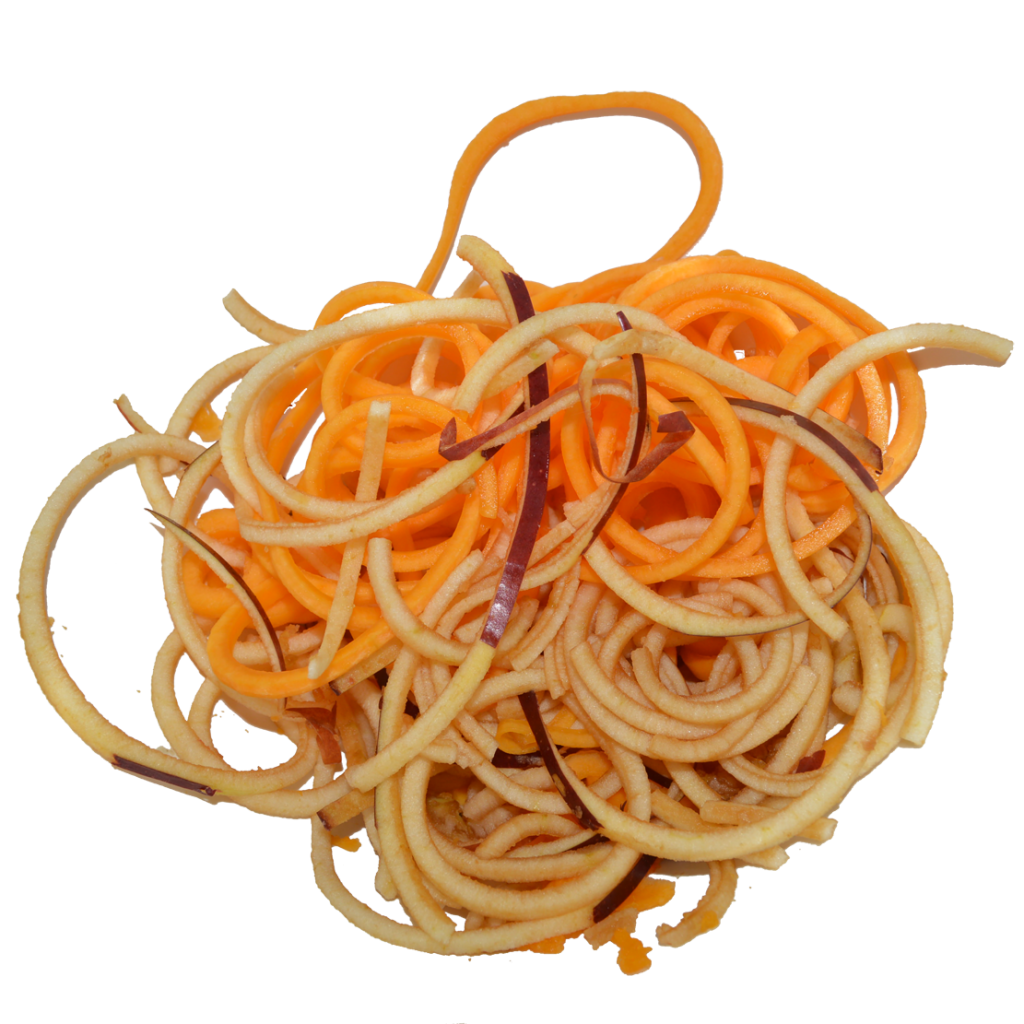 For the noodles:
1 hard variety apple (I've been using an heirloom variety, related to Arkansas Black)
1 small butternut squash, peeled (unless using the KitchenAid attachment, in which case you should simply attach the peeling blade)
Instructions for preparation & assembly:
Spiralise fruits & place noodles in a large mixing bowl.
Blend sauce ingredients together (using a spoon will work fine), gradually adding spring water until creamy consistency is reached.
Pour sauce over noodles, stirring gently as added.
Gently massage sauce into fruit noodles with bare hands, until noodles become soft and pliable.
Stir in chopped medjool dates.
Plate as desired.
At this point I will also garnish the dish, but of course this step is optional.
A few items I've found to work well for garnishing include:
Raw, chopped nuts (I used black walnuts for mine)
Dessicated raw coconut
Grated Buddha Hand (lemon zest also works nicely)
Ground Ceylon Cinnamon
Ground Cardamom
Grated Carrot (or juice pulp)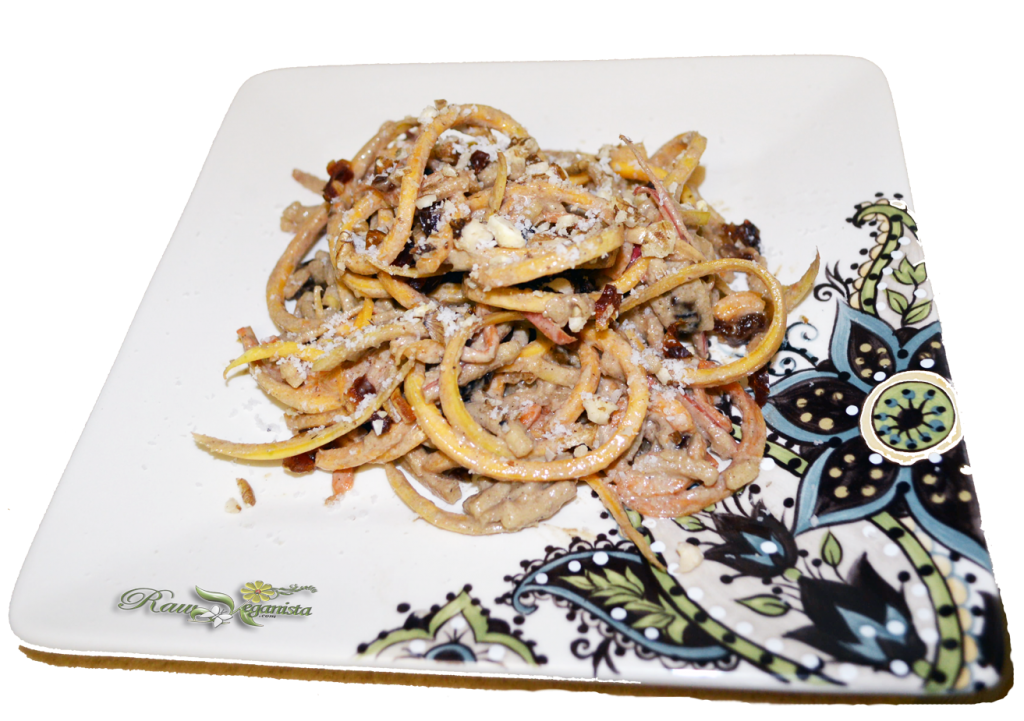 …and now the time has come for me to disappear into the kitchen once again, to mindfully embark upon some of my own yearly ritualistic intake of cabbage, noodles, fruit, and all that has been mentioned above. With deepest gratitude for your readership, I wish you all an abundant, peaceful, and compassionately joyous new year ahead.
Peace be with you,
DⒶⓋi
♡Ⓥ★