Happy Summer, friends!
Please forgive my exceptionally lengthy lapse between entries?
It has indeed been awhile since my last post, mainly due to the previously mentioned camera failure/technical difficulties & general "chaos superabundance" which comes with the onset of Summer. This post was actually composed several weeks ago & saved as draft, as the featured meals were created in honour of my little Sphynx friend's birthday. However, the post was pushed to the backburner when the camera died and I felt it necessary to hang on to something to post in the interim whilst working to remedy (at least a portion of) my tech situation. In any case, today seemed an ideal time to post as the present theme for Vegan Recipe Hour is #Indianfood!
As many of you may recall from my recent recipe post for raw veganniversary/birthday cake donuts, I have been feverishly experimenting with sprouted buckwheat in various formulations for raw cakes & breads. During a recent experiment with pancake batter (inspired by my very creative friend Milla), I ended up with some smallish, very spongey flatbread-esque results which strongly reminded me of Indian naan…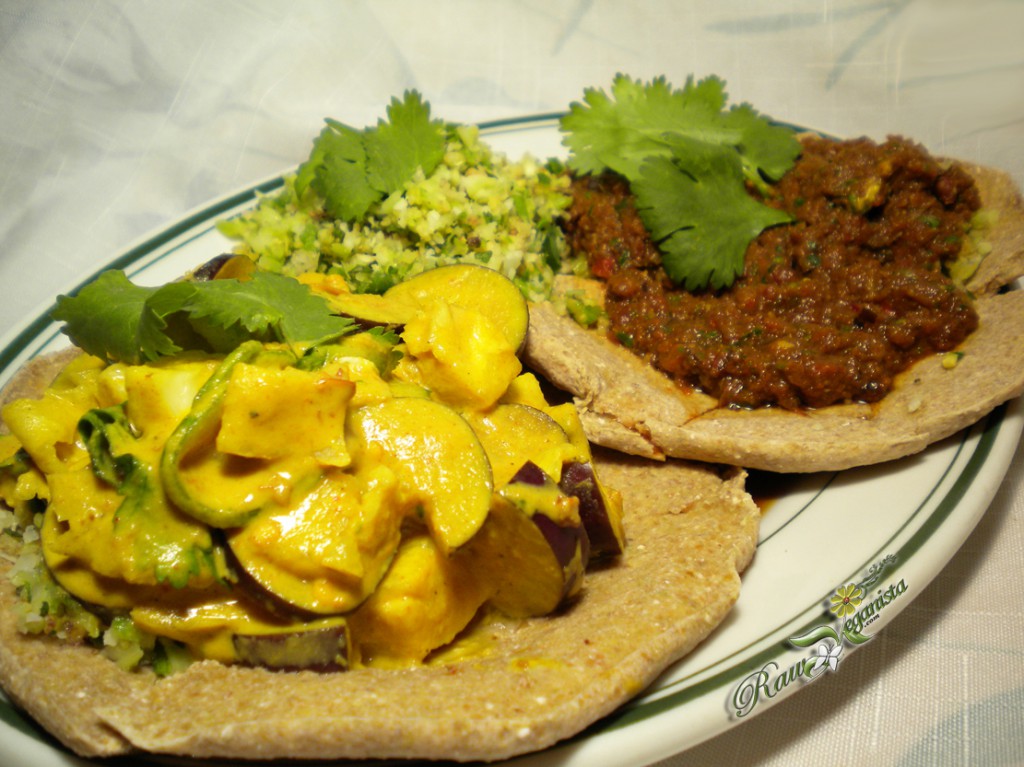 Although the aforementioned bread recipes are essentially still works in progress, this result inspired me to get busy with some small aubergines which were recently gifted to me from the very abundant organic hydrogarden of an exceptionally resourceful family friend.
How long had it been since I last enjoyed a spicy, delicious aubergine curry with some type of bread? Wow… at this point I've been raw and gluten free for over a decade, so the answer was glaringly obvious: far too long.
After having looked around the kitchen to see what other lovely produce I had picked up from the farmer down the road, I came upon the realisation that that there were plenty of nice things around with which to make an Indian-style feast!
Equipment needed:
Vitamix (or similar high-speed blender) with

variable speed options

and/or food processor.
Sharp knife or mandoline slicer
Cutting board
Experiment 1: Raw Vegan Coconut Korma
Ingredients needed: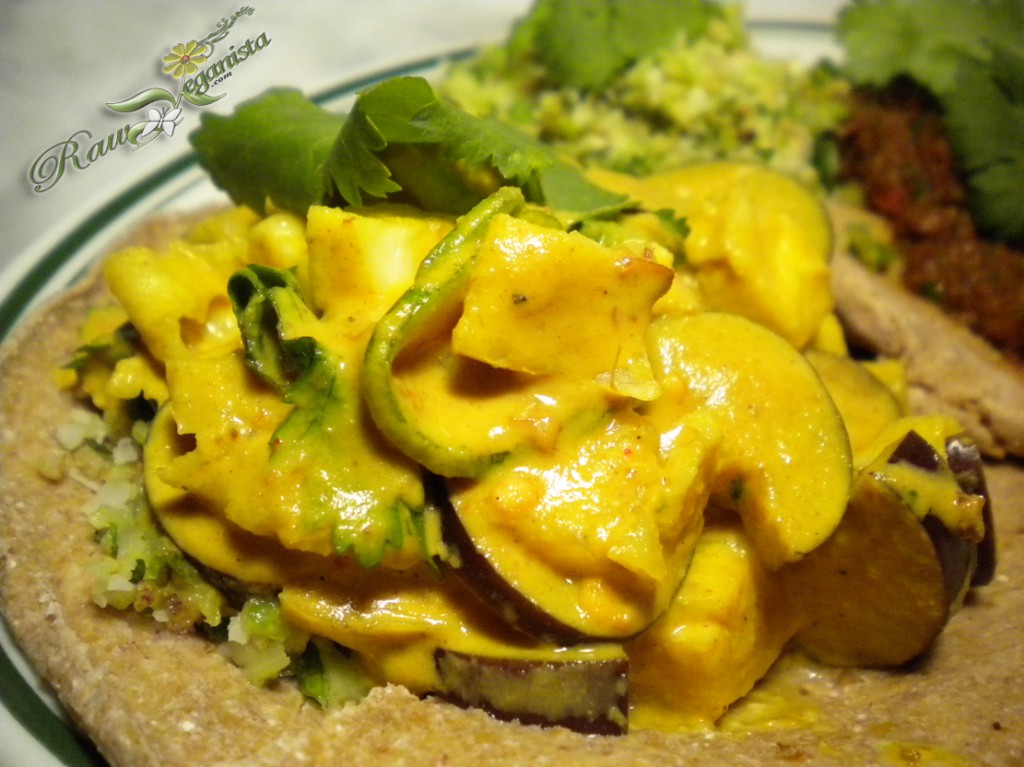 1/4 Cup coconut butter
2 cloves garlic
1 inch piece fresh ginger root, grated
1 tsp ground cumin
1 Tbsp ground coriander
1 tsp garam masala
1 tsp ground turmeric
1/2 tsp ground cardamom
1/2 tsp ground Ceylon cinnamon
1 red chili
3/4 Cups pure water (to thin mixture during preparation)
2 small aubergines, sliced & chopped
1 small cabbage, cubed (cauliflower also works nicely for this purpose/texture)
3-4 ounces mushrooms, cut into thick slices
Other seasonal vegetables, according to preference & availability (green beans, etc.)
Cilantro to garnish
Instructions for preparation:
Blend coconut butter, peppers, & spices in Vitamix (or similar high speed blender).
Add water to thin mixture into a gravy-esque consistency.
When mixture is evenly blended, remove from blender carafe & pour into a bowl
Stir in sliced & chopped vegetables.
Cover bowl and allow vegetables to soak in the sauce until flavour has permeated the produce (I placed bowl into dehydrator at 93ºF for around 30 minutes which worked nicely, but this process is entirely optional).
Plate and garnish with fresh cilantro.
Serve & enjoy in vibrant health
Spicy Aubergine Curry
Ingredients needed: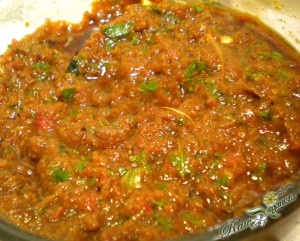 1 large (or 3-4 small) aubergine
2 oz. mushrooms, halved (optional)
2 garlic cloves (optional, if Sattvic)
1 fresh red chili pepper
1/2 tsp ground chipotle chili pepper
1 tsp ground cumin
1 tsp ground coriander
1/4 tsp ground turmeric
1 tsp Celtic sea salt (optional)
12-15 soaked organic sundried tomatoes & 1.5-2 cups soaking liquid
1 Tbsp chopped cilantro
sprigs of cilantro (for garnish)
 Instructions for preparation:
Combine aubergine, tomatoes, salt, garlic & spices in food processor & pulse together until well incorporated (should bear some texture, as shown in photo above).
Remove from food processor, fold in chopped cilantro & mushrooms
Serve with "riced" cauliflower, parsnip, or other raw rice-like accoutrement
Garnish with cilantro sprigs & raw/vegan yoghurt (also optional – full recipe soon to be posted in next blog entry & sent directly to inbox for subscribers).
Enjoy in vibrant health! =)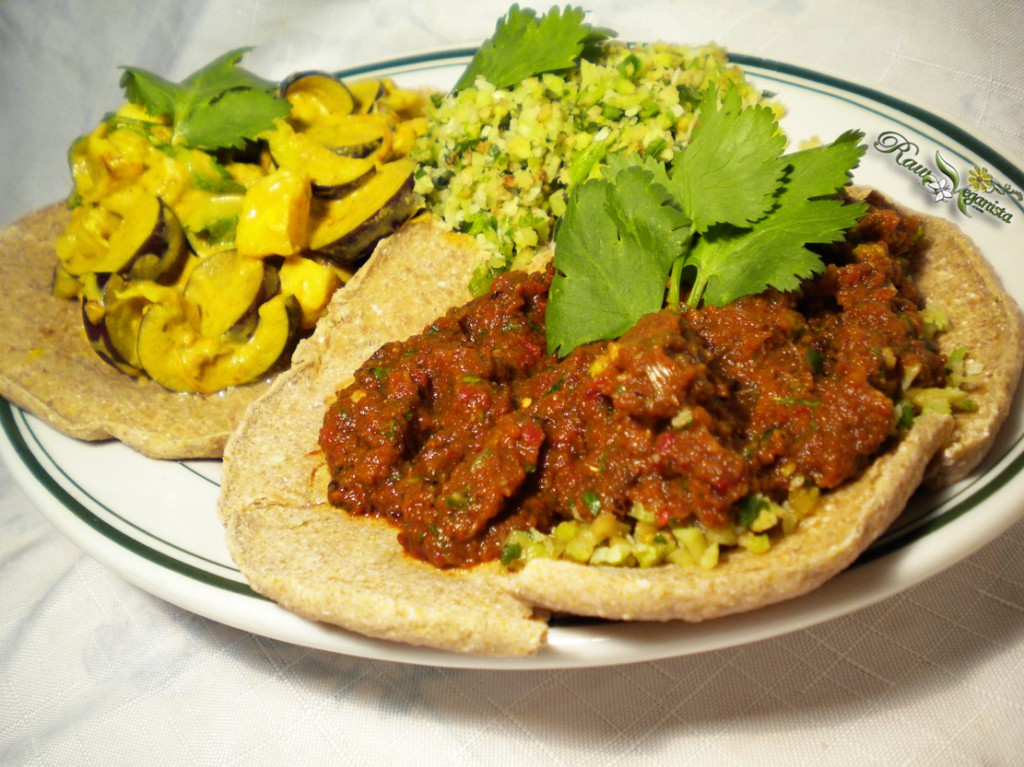 In closing, I would like to offer an apology to all subscribers and those of you who quickly flew over from Twitter/#veganrecipehour & other social media spots from where this post was linked as soon as it went live. It seems that upon initial publishing of this post, a fair portion of the original composition was lost in the aether…
I have no idea where it went, but found it necessary to edit in new text (since I posted rather hastily & failed to back up offline) to complete this post (again) after having already sent it live. I hope that I haven't forgotten anything, and welcome all of you to post questions or comments if it seems like anything is missing and should be addressed (or even just to say hello).
As always, thank you so much for reading!
♡Ⓥ★