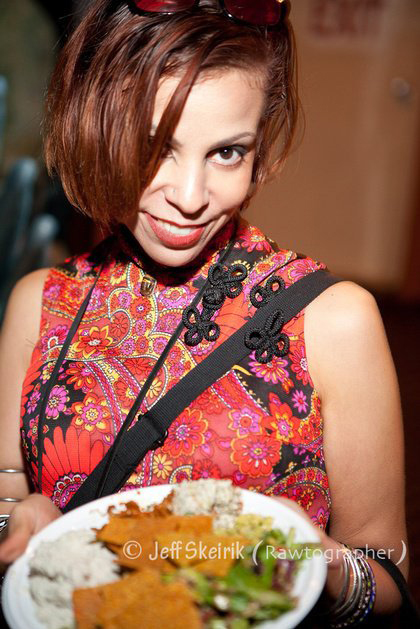 The Raw Veganista (also known professionally as Rev. Sr. D. Kathryn or "Lady Ⓥ Stardust") is raw culinarian (chef/artist/instructor), Interfaith minister, Ahimsa lifestyle consultant, and culinary/spiritual/society writer who has been committed to an entirely vegan lifestyle since early May of 1990.
After having spent many years working professionally as a musician, copy editor, fitness trainer, choreographed performer, ballroom dance instructor, print/event model, & media presenter for various corporate and business entities (and also freelancing independently as a vocalist, artist/collaborator, & political/social pundit – à la "
Dark Stardust
"), she eventually shifted her focus from dealings with media-inclined masses toward more peaceful and positively fulfilling endeavours in culinary, spiritual, and environmental education.
As such, she is now focused primarily on her role as co-founding director, educator, and workshop leader with Lorax Community, for which she teaches optimal methods for sourcing, cultivation, harvest, and preparation of raw, organically grown, plant-based meals using basic principles of Ahimsa mindfulness and "Creation Care".
She places great emphasis upon growing and wildcrafting as much of her own food as possible, whilst directly sourcing additional items from regional growers (with preference for local farms and orchards utilising veganic, transitional, & organic growing methods). Great pains are taken to ensure that all food purchases are organically grown, sustainably produced, & obtained through fair labour.
Her primary goal is to help others in finding joyful gratitude through successful cultivation, harvesting, and preparation of plant-based food – whilst utilisng basic methods of environmental sustainability, positive intention, and universal consciousness.
One key strategy in fulfillment of purpose consists of sharing simple methods for preparation of wonderful, delicious & sustainable meals to be recreated by virtually anyone in their own kitchen – without the use of heat, flesh, commercially manufactured or processed ingredients. It can be done, and can indeed be exquisite.
For additional information (including professional, background, & biographical details), please feel free to refer to alternate bio pages at LoraxCommunity.org, DarkStardust.com, and the "About Me"section of this site.